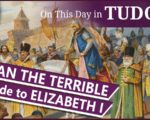 On this day in Tudor history, 28th October 1570, Ivan IV of Russia, known commonly as Ivan the Terrible, wrote a rather rude letter to Queen Elizabeth I.
Ivan was upset with Elizabeth's reaction to his idea of a political alliance, an agreement to help each other if their lives were in danger, and wrote the letter while he was still angry. They were words that must have made Elizabeth see red for a while, but she managed to write a calm reply to him.
Find out exactly what Ivan the Terrible and Elizabeth I wrote to each other, and how they came to be corresponding in the first place, in today's talk.
[Read More...]