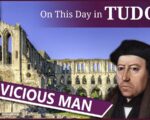 On this day in Tudor history, 25th November 1545, lawyer, member of Parliament, diplomat and ecclesiastical administrator, Sir Thomas Legh (Leigh), died.
Legh was a faithful servant to King Henry VIII, but his work during the dissolution of the monasteries led to complaints against him and even rebellion.
He was a vicious man, known for his harsh treatment of monks, but he also played a key role in protecting Thomas Cranmer, Archbishop of Canterbury, in 1543 when his enemies tried to bring him down.
Find out more about this Tudor man in this talk…
[Read More...]