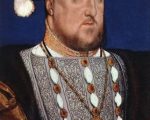 On this day in Tudor history, 18th September 1556, Edward Courtenay, 1st Earl of Devon, died from a fever at Padua in Italy.
Courtenay had been sent overseas after he was implicated in Wyatt's Rebellion as a future husband and consort of Queen Mary I's half-sister, Elizabeth, the future Queen Elizabeth I.
In this video, I tell you more about this Earl of Devon and how he was a prospective bridegroom for both of Henry VIII's daughters.
[Read More...]