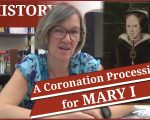 On this day in Tudor history, Saturday 30th September 1553, Queen Mary I processed through the streets of London, from the Tower of London to Westminster on her coronation procession.
The procession was a mile and a half long and must have been such a spectacle for the citizens of London. There were also pageants, wine flowing in the conduits, streets hung with tapestries, and a new queen to see.
I share details of that day, along with how Mary I was dressed for what must have been a triumphant day for her.
[Read More...]