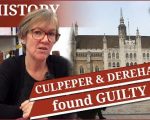 On this day in Tudor history, 1st December 1541, Thomas Culpeper, a member of King Henry VIII's privy chamber, and Francis Dereham, a secretary to Queen Catherine Howard, were tried for high treason at Guildhall, London. Both men had been linked romantically with the queen.
They were both found guilty of treason and sentenced to be hanged, drawn and quartered.
But what about Catherine Howard and her lady, Jane Boleyn, Lady Rochford, who had also been arrested. What was happening with them? Find out more about them, and the trial of Dereham and Culpeper, in today's talk.
[Read More...]