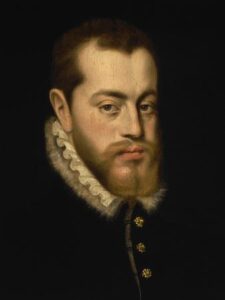 On this day in Tudor history, 20th July 1554, Philip of Spain arrived in England, at Southampton, in readiness for his marriage to Mary I.
Winchester Cathedral, seat of Bishop Stephen Gardiner, had been chosen as the wedding venue, due to the recent Wyatt's Rebellion in London, and Mary and her court set off from Richmond on 16th June.
When Philip landed at Southampton, he was met by a host of gentry and nobles, including the Earl of Arundel, who presented him with the Order of the Garter. There was, however, upset due to Philip bringing his own Spanish household when an English household of 350 had been appointed for him.
Philip and Mary married at Winchester five days later in a ceremony performed by Bishop Gardiner.
Also on this day in Tudor history...
Image: Portrait of Philip of Spain by Anthonis Mor.