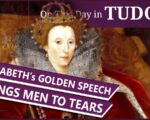 On this day in Tudor history, 30th November 1601, sixty-eight-year-old Queen Elizabeth I delivered her famous Golden Speech to the House of Commons.
In this final speech to Parliament, Elizabeth spoke of her position as Queen and her love and respect for her realm, her people, and for her members of Parliament. It was a speech that brought many of those listening to tears. It was obviously a very heartfelt speech by a queen who truly loved her people.
In today's talk, I share Elizabeth I's Golden Speech along with some beautiful portraits of the queen.
[Read More...]