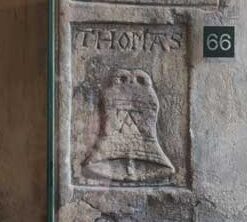 As yesterday was the anniversary of the martyrdom of Catholic Thomas Abell, on 30th July 1540, I thought he could be this week's #MondayMartyr.
Here are some facts about this Henrician martyr:
Thomas Abell's birthdate is unknown but he'd been ordained as a Catholic priest by 1513.
He studied at the University of Oxford, attaining a BA in 1514 and an MA in 1518.
In 1522, Abell became rector at Great Berkhamsted in Hertfordshire.
By 1528, Abell was serving Queen Catherine of Aragon, Henry VIII's first wife, as chaplain.
Abell played a role in the Great Matter, Henry VIII's quest for an annulment of his marriage to Catherine of Aragon, by supporting the queen and travelling to Spain in 1529 to collect the brief of dispensation for the marriage. He also took a letter from the queen to her nephew, Charles V. Abell was present in Valladolid when the emperor allowed English ambassadors to read an English translation of the brief and compare it to the original brief.
Abell was rewarded by the queen for his service in 1530 when he became rector of Bradwell by the Sea, Essex.
Henry VIII banished Abell from court after he presented to the king's council a list of forty-four doctors who believed the king's first marriage to be valid.
In c.1532, Abell published "Invicta veritas", in support of the marriage and as an answer to Henry VIII's government's 1531 "The Determinations of the Universities".
Abell was arrested and imprisoned in 1532. He was, however, released in early 1533.
Despite his time in prison, Abell refused to refer to Catherine of Aragon as "Princess Dowager", her new title, and, instead, called her "Queen".
Abell was arrested in December 1533 and charged with misprision of treason after being implicated in the case of the Holy Maid of Kent, Elizabeth Barton, along with Sir Thomas More and John Fisher, Bishop of Rochester.
While More and Fisher were executed in 1535, Abell wasn't executed until 1540, suffering over six years in prison. He was executed with Catholics Edward Powell and Richard Fetherston for refusing to acknowledge the royal supremacy. The three men were hanged, drawn and quartered at Smithfield.
While he was imprisoned in the Beauchamp Tower at the Tower of London, Thomas Abell made a carving into the stone wall. It is a play on his name. It has the word Thomas and then a bell underneath it with an A on it (see image).
Find out more about Thomas Abell's execution and those of Powell, Fetherston and three Reformers who also lost their lives on the same day - 30 July 1540 – Executions of Reformers and Catholics.
Image: A carving of a bell with the letter A at the Beauchamp Tower, Tower of London, by Thomas Abell. Photo by Claire Ridgway.