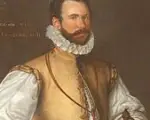 On this day in history, 31st May 1578, Sir Martin Frobisher set sail with his fleet from Harwich, England, to Frobisher Bay, Canada. By 31st August 1578, Frobisher and his men had mined 1370 tons of ore, which was loaded onto the ships to take back to England. Unfortunately, no gold or other precious metal was found in the ore.
But who was Sir Martin Frobisher?
Sir Martin Frobisher was a privateer, explorer and naval commander who was born around 1535. He was born in Altofts, near Normanton, West Yorkshire, and was the son of Bernard Frobisher and Margaret Yorke. After his mother's death he was sent to live with Sir John Yorke, a relative of his mother's, in London. Yorke was a merchant adventurer.
Frobisher took part in a voyage to Guinea in 1553 which Yorke had invested in and which was led by Thomas Wyndham. He acted as assistant to John Beryn, Yorke's factor. A fever wiped out over two-thirds of the crew, including Wyndham, but Beryn and Frobisher survived. In 1554, Frobisher took part in a voyage to Guinea led by John Lok and ended up being taken into custody by the Portuguese and being held by them for 2-3 years.
[Read More...]