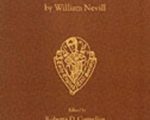 Poet William Neville was born on 15th July 1497 and was the second son of Richard Neville, 2nd Baron Latimer, and Anne Stafford, daughter of Humphrey Stafford. His older brother was John Neville, 3rd Baron Latimer, who had Catherine Parr as his third wife.
Not much is known about the life of William Neville, but what we do know is rather interesting and involves treason and dark magic.
It is believed that when he was young, William served under Cardinal Wolsey and would have been provided with the education typically given to the son of a baron. Although we know very little more about his early years, we do know that from 1524 he served as a commissioner of the peace for Worcestershire.
[Read More...]