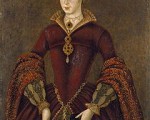 On this day in Tudor history, 25th May 1553, Lady Jane Grey got married to Lord Guildford Dudley, son of John Dudley, Duke of Northumberland.
They weren't the only couple to get married in the ceremony at Durham House, Jane's sister, Katherine, and Guildford's sister, Catherine, also got married.
In today's video, I give more details and consider who was behind this triple Tudor wedding.
[Read More...]