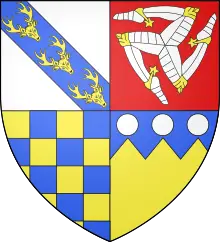 On this day in Tudor history, 29th July 1504, in the reign of his stepson King Henry VII, Thomas Stanley, 1st Earl of Derby, died at his manor of Lathom in Lancashire.
Here are a few facts about Stanley:
Stanley was born in c.1433 and was the eldest son of Thomas Stanley, 1st Baron Stanley, and his wife, Joan Goushill.
His father had served Henry VI as controller of the household and it was thanks to his father's influence that Stanley became one of Henry VI's squires in 1454.
Stanley's first wife was Eleanor Neville, daughter of Richard Neville, Earl of Salisbury, and sister of Richard Neville, Earl of Warwick.
Due to his links with Salisbury, Stanley found himself in a difficult position in 1459 when Margaret of Anjou, wife of Henry VI, ordered him to raise troops against Salisbury. Stanley chose to keep his troops out of the subsequent fighting at the Battle of Bloreheath. He narrowly escaped being attainted like his brother William.
In the early 1460s, Stanley sided with the Yorkists and took part in the tournament celebrating King Edward IV's marriage to Elizabeth Woodville.
Things again got tricky for Stanley when the Earl of Warwick turned against Edward IV. Stanley supported Warwick in his attempt to restore the Lancastrian king, Henry VI, and was lucky to be forgiven by Edward IV on his restoration.
In 1471, Edward IV appointed Stanley steward of his household.
In 1472, following the death of his first wife, Stanley married Lady Margaret Beaufort, mother of Henry Tudor, the future Henry VII.
In 1475, Stanley accompanied Edward IV on his French campaign, and in 1482, he accompanied Richard, Duke of Gloucester, the future Richard III, on his Scottish campaign.
Following the death of Edward IV, Stanley was injured when the Duke of Gloucester, Lord Protector for the young Edward V, turned on Woodville supporters and Lord Hastings. He was arrested but released after Richard became king. He bore the great mace at Richard III's coronation.
During Richard III's reign, Stanley was elected to the Order of the Garter and made Constable of England.
In 1485, Stanley was communicating with his stepson, Henry Tudor, and when Stanley requested leave from court to go to his estates in the North, Richard III requested that he leave his son, Lord Strange, at court in his place.
In early August, Henry Tudor landed in Wales and Richard III ordered Stanley and his brother, Sir William Stanley, Chamberlain of Chester and North Wales, to raise troops against Henry. Stanley blamed ill-health for not doing so and Richard questioned Lord Strange, who confessed that the Stanleys were in contact with Henry Tudor. Richard III then made a hostage out of Lord Strange in an attempt to make Stanley behave.
At the Battle of Bosworth on 22nd August, at first, the Stanleys and their troops stayed out of the battle, but eventually Sir William's troops helped Henry Tudor win the battle. Some say that it was Stanley who crowned his stepson with Richard's crown on the battlefield, but it's more likely to have been his brother.
In October 1485, Stanley was rewarded for his support of Henry VII by being made Earl of Derby.
In 1486, Stanley was made Constable of England and High Steward of the Duchy of Lancaster. He also stood as godfather to his step-grandson, Arthur Tudor.
In 1487, following the falls of those who supported pretender Lambert Simnel at the Battle of Stoke Field, Stanley was awarded some of their forfeited lands.
In 1499, Stanley's wife, Lady Margaret Beaufort, left their home at Lathom and set up her own household at Collyweston, also taking a vow of chastity. However, she did receive visits from her husband.
In December 1503, his son, Lord Strange died.
Stanley died on 29th July 1504 at Lathom and was buried at Burscough Priory.
Stanley was an influential man in the north-west of England, owning land and properties in Cheshire and Lancashire. He also had holdings in the Midlands and on the Isle of Man.
Also on this day in Tudor history...
Image: Coat of arms of Thomas Stanley, 1st Earl of Derby, by Geraldiker.