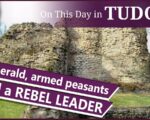 On this day in Tudor history, 21st October 1536, during the Pilgrimage of Grace rebellion, Lancaster Herald had an encounter with armed peasants on his way to Pontefract Castle and then met with the rebel leader, Robert Aske, at the castle.
The meeting didn't go well, with Aske putting his foot down and not allowing the herald to complete his mission.
What was going on? Who was Lancaster Herald? What was his mission?
[Read More...]