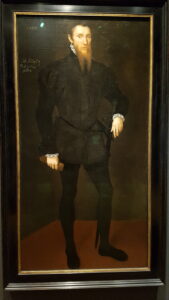 On this day in Tudor history, 1st August 1596, in the reign of Queen Elizabeth I, courtier John Ashley (Astley) died, probably at Maidstone in Kent. He was buried there at All Saints' Church.
Here are some facts about Ashley:
He was related to the Boleyns – his mother was Anne Wood and she was the sister of Lady Elizabeth Boleyn, wife of Anne Boleyn's paternal uncle, Sir James Boleyn.
His first court appointment was serving the future King Edward VI in 1543, and by 1547 he was serving in the household of Henry VIII's younger daughter Elizabeth, the future Elizabeth I.
In about 1545, he married Katherine Champernowne, better known as Kat Ashley, Elizabeth I's former governess and Chief Gentlewoman of the Privy Chamber.
John Ashley served Elizabeth I as a Gentleman of the Privy Chamber, Master of the Jewel House and Treasurer of the Queen's Jewels and Plate.
Also on this day in Tudor history...
Image - Photo of the portrait of John Ashley from the collection at the National Portrait Gallery, photo by Claire Ridgway.