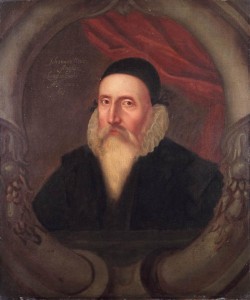 On this day in Tudor history, 13th July 1527, John Dee, the astrologer, mathematician, alchemist, antiquary, spy, philosopher, geographer and adviser to Elizabeth I and influential statesmen, was born in London.
He had an incredible career which included:
Working under the patronage of the Earl of Pembroke, Duke of Northumberland and the Grey family.
Tutoring Robert Dudley and Edward VI.
Drawing up an electional chart to determine the most auspicious date for Elizabeth I's coronation.
Undertaking secret missions for Elizabeth and Lord Burghley.
Writing and presenting a mathematical and astronomical work to the queen.
Being consulted by famous explorers and navigators.
And working with Edward Kelley and communicating with angels.
Dee was one of the most learned men of the Elizabethan age.
Find out more about him and get some book recommendations by clicking here.
Also on this day in Tudor history...
Image: A portrait of John Dee by an unknown artist.