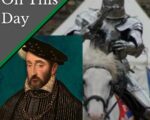 On this day in Tudor history, 30th June 1559, King Henry II of France, suffered a mortal injury.
The keen sportsman was injured while jousting. He died on 10th July and was succeeded by his son, Francis II.
Jousting was a dangerous sport and Henry was fatally injured when splinters from his opponent's lance entered his right eye.
Find out more about Henry II's accident and death, and also his reign in this video…
[Read More...]