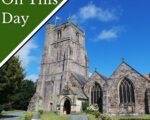 On this day in Tudor history, 31st August 1580, in the reign of Queen Elizabeth I, Welsh language poet and elegist Wiliam Llŷn died at Oswestry.
J.C. Morrice, who published a collection of Llŷn's works in 1908, described him as "the best elegist not only of the sixteenth century but, perhaps, of all Welsh bards".
Llŷn left his works to his pupil Rhys Cain, who wrote an elegy to him and recorded that he was not yet forty-six at his death. His other pupil Siôn Phylip also wrote an elegy to him.
[Read More...]