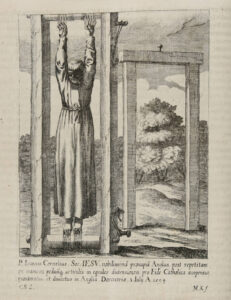 This week's Monday Martyr is Catholic martyr John Cornelius, who was executed for treason, for being a priest and returning to England as a priest, on 3rd or 4th July 1594, in the reign of Queen Elizabeth I.
John Cornelius, who had Irish parents, was born in Bodmin in Cornwall in around 1557. Under the patronage of Sir John Arundell of Lanherne, Cornelius was educated at Oxford University, but was expelled due to his Catholic faith in August 1578. In 1579, he travelled to the English College at Rheims, in France, and then on to the English College in Rome, where he was ordained in 1583.
Following his ordination, Cornelius, returned to England, joining the household of Sir John Arundell, where he acted as the family's chaplain. Arundell died in 1591, but Cornelius remained with Arundell's widow, Anne, living with her at Chideock Castle. His biographer, Thomas M. McCoog, notes that Cornelius had a reputation as an exorcist.
In April 1594, Chideock Castle was raided by the local sheriff, Sir George Trenchard, and unfortunately, the priest hole where Cornelius was hiding was discovered. Cornelius was arrested and taken to Trenchard's home, where he is recorded as debating with Protestants. He also met Sir Walter Ralegh, who said that he would intercede with the queen for Cornelius. However, Cornelius ended up being imprisoned in the Marshalsea. There, he was tortured in an attempt to make him implicate those who had supported him, but he refused to talk.
In June 1594, John Cornelius was tried for high treason at Dorchester. He was tried with Thomas Cosgrave, a relative of the Arundells, and two servants of the Arundells, John Carey and Patrick Salmon. They were tried for felony for helping a priest. All four were found guilty and sentenced to death. They went to their deaths on 3rd or 4th July 1594 at Dorchester.
Image: Engraving of John Cornelius being racked from "Societas Jesu usque ad sanguinis et vitae profusionem militans, in Europa, Africa, Asia, et America, contra gentiles, Mahometanos, Judaeos, haereticos, impios, pro Deo, fide, Ecclesia, pietate, sive, Vita, et mors eorum, qui ex Societate Jesu in causa fide" by Mathias Tanner, 1675.
Sources