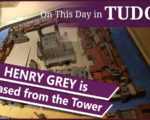 On this day in Tudor history, 31st July 1553, Henry Grey, Duke of Suffolk, was "discharged out of the Tower by the Earle of Arundell and had the Quenes pardon."
Suffolk had, of course, been imprisoned after Mary I had overthrown his daughter, Queen Jane, or Lady Jane Grey, and his release was down to his wife, Frances, interceding with the queen and begging for mercy.
But who was Henry Grey and how did he go from being pardoned to being executed in 1554?
Find out in today's talk.
[Read More...]