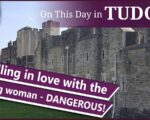 On this day in Tudor history, 31st October 1537, Lord Thomas Howard, second son of Thomas Howard, 2nd Duke of Norfolk, died while imprisoned in the Tower of London. He was about twenty-five years of age at his death.
How did this son of the 2nd Duke of Norfolk and brother of the 3rd Duke of Norfolk end up dying in the Tower?
Well, he fell in love with the wrong woman? He had become secretly betrothed to King Henry VIII's niece, Lady Margaret Douglas.
Find out more about Lord Thomas Howard, his relationship with Lady Margaret Douglas, and what happened to them both, in this talk… Oh, and Margaret really didn't learn her lesson!
[Read More...]