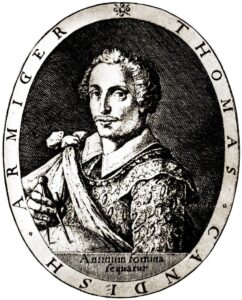 On this day in Tudor history, 21st July 1586, explorer, navigator and privateer, Thomas Cavendish, set sail from Plymouth on his South Sea voyage. He set off with three ships and 123 men.
The aim of the voyage was to open up trade with the East and break the Spanish monopoly there, and to find locations for new colonies in South America, as well as raiding Spanish ports and ships.
By 21st October, he'd reached Brazil and by 24th February 1587, he'd cleared the Strait of Magellan. The fleet looted and burnt Spanish vessels and towns, and captured ships off the South American coast.
Cavendish returned to England in September 1588 making his circumnavigation quicker than that of Sir Francis Drake.
You can find out more about Thomas Cavendish and his circumnavigation in this video:
Also on this day in Tudor history...
Image: An engraving of Thomas Cavendish from Henry Holland's Herōologia Anglica (1620).