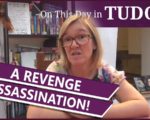 On this day in Tudor history, 12th October 1555, Lewis Owen, member of Parliament and administrator in Wales, was assassinated on Dugoed Mawddwy, a mountain pass.
Owen was murdered by a group of bandits as revenge for his campaign against them, which had led to around 80 hangings.
Find out more about Lewis Owen, his life and what happened, in today's talk.
[Read More...]