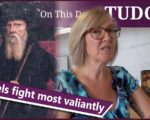 On this day in Tudor history, 4th August 1549, in the reign of King Edward VI, the Battle of Woodbury Common, part of the Prayer Book Rebellion, took place on Woodbury Common, near the village of Woodbury in East Devon.
The battle was between the rebels and the crown troops commanded by John Russell, 1st Earl of Bedford. Although the rebels fought valiantly, they were defeated.
Find out more about the battle and what caused the Prayer Book Rebellion of 1549 in today's talk.
[Read More...]