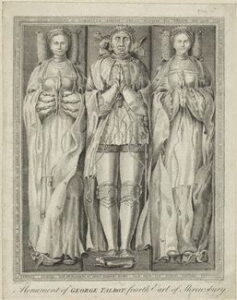 On this day in Tudor history, 26th July 1538, in the reign of King Henry VIII, George Talbot, 4th Earl of Shrewsbury and 4th Earl of Waterford, died at South Wingfield Manor, Derbyshire. He was buried at St Peter's Church, Sheffield.
Here are a few facts about him:
Shrewsbury was born in 1468 and was the son of John Talbot, 3rd Earl of Shrewsbury, and Katherine Stafford.
He became the 4th Earl of Shrewsbury in 1473 following the death of his father.
He was the ward of William Baron Hastings, who arranged Shrewsbury's marriage to his daughter, Anne.
He fought at the Battle of Stoke Field in 1487 and was made a Knight of the Garter afterwards.
He served Henry VIII as chamberlain of the exchequer, a diplomat, and as a lieutenant in France and on the Scottish borders.
And in 1536, he played an important part in suppressing the Pilgrimage of Grace rebellion.
He had eleven children with his first wife, then, following her death, he had two children with his second wife, Elizabeth Walden.
Also on this day in Tudor history...
Image: Effigy of George Talbot on the Talbot monument in the Shrewsbury Chapel, Sheffield Cathedral. His first wife Anne is on his right side and his second, Elizabeth, on his left.