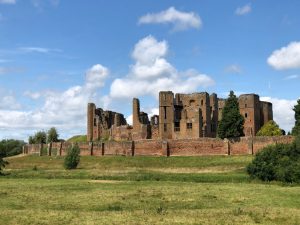 On this day in Tudor history, 9th July 1575, Elizabeth I began a stay at Kenilworth Castle, home of her favourite, Robert Dudley, Earl of Leicester.
Her 19-day-stay was recorded by Robert Langham, a member of Leicester's household, and by poet and actor George Gascoigne, who was hired by Leicester to provide entertainment.
Leicester went to extraordinary lengths to impress his queen – a new gatehouse, new luxury apartments fit for a queen, new gardens, firework displays, hunting, a masque and other lavish entertainment.
Sadly, his plan to woo her and persuade her to marry him didn't work, as the masque that was to act as a proposal to her had to be cancelled because of the weather! If only it had been dry and sunny!
Find out more about Elizabeth I's 1575 stay at Kenilworth by clicking here.
Also on this day in Tudor history...