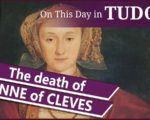 On this day in Tudor history, 16th July 1557, forty-one-year-old Anne of Cleves, fourth wife of King Henry VIII, died at her home, Chelsea Old Manor. She'd been ill for a few months.
Anne of Cleves was a warm and generous lady, something which is shown in her last wishes with the bequests to her household, friends and stepdaughters.
Find out more about her bequests and her funeral arrangements in today's talk.
[Read More...]