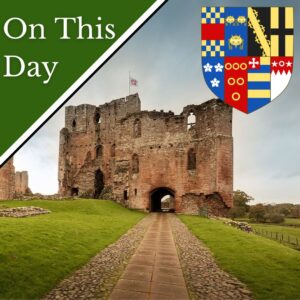 On 8th January 1570, in the reign of Queen Elizabeth I, Henry Clifford, 2nd Earl of Cumberland, died at his home, Brougham Castle. He was buried at Holy Trinity Church, Skipton.
According to a family story, Clifford was so devastated at the death of his first wife, Lady Eleanor Brandon, that he could only be brought back from a certain death by suckling from a woman's breasts!
Facts about Henry Clifford, 2nd Earl of Cumberland
Here are a few facts about this Earl of Cumberland...

Clifford was born in 1515 and was the eldest son of Henry Clifford, 1st Earl of Cumberland, and his second wife, Margaret Percy, daughter of the 5th Earl of Northumberland.
Clifford went to the royal court in his youth, and, as I said, attended on Henry VIII's illegitimate son, Henry Fitzroy, Duke of Richmond and Somerset, at Pontefract Castle.
In 1533, during the celebrations for the coronation of Queen Anne Boleyn, Clifford was made a Knight of the Bath.
In 1535, when he was about 20, Clifford married Henry VIII's niece, Eleanor Brandon, daughter of Charles Brandon, Duke of Suffolk, and Mary Tudor, Queen of France. The couple had three children: Margaret, Henry and Charles, but the boys died young.
In 1537, Clifford attended on Henry VIII's eldest daughter, Mary, at the funeral of the king's third wife, Jane Seymour, at Windsor, and in January 1540 he was in attendance at the meeting of Henry VIII and Anne of Cleves. He was also appointed as Henry VIII's carver in 1540.
In the 1540s, Clifford served the king as a soldier in the North but lost out on being appointed as warden general of the marches, with the position going to John Dudley instead. He was appointed to the Council of the Borders, though, and then to the Council of the North. He served again in the north in a military capacity in 1559 and 1560, following Elizabeth I's accession to the throne.
In 1547, Clifford's wife, Eleanor, died. Clifford was devastated and, according to a family story, could only be brought back from a certain death by suckling from a woman's breasts. The grief-stricken earl retired from court and spent time in his northern estates, dabbling in distilling, alchemy and astrology.
In 1553, he narrowly avoided becoming caught up in the succession crisis caused by Edward VI's death. John Dudley, Duke of Northumberland, leader of the young king's government, had wanted Clifford's daughter, Margaret, to marry his son, Lord Guildford Dudley, but Guildford ended up marrying Lady Jane Grey, Clifford's niece, instead. Margaret ended up marrying Henry Stanley, 4th Earl of Derby.
In 1554, Clifford married his second wife, Anne Dacre, daughter of William, third Baron Dacre of Gilsland, and Lady Katherine Neville. The couple went on to have at least three children: George, who'd become 3rd Earl of Cumberland and who was Elizabeth I's champion; Francis, who'd become 4th Earl, and a daughter, Frances, who married Philip Wharton, 3rd Baron Wharton.
In Elizabeth I's reign, Clifford was accused of supporting Catholic priests in the North, but things improved for the earl when his son, George, married Margaret Russell, daughter of the Earl of Bedford, a member of a Protestant circle at court. Although he was implicated at first in the 1569 Catholic Rising of the North, a rebellion by fellow Catholic northern earls, Clifford was able to demonstrate his loyalty to Elizabeth I by holding his castle at Brougham in her name.
He died at Brougham Castle on this day in 1570.
Here are my videos on Clifford's father, the 1st Earl of Cumberland, and Clifford's son, George Clifford, 3rd Earl of Cumberland...