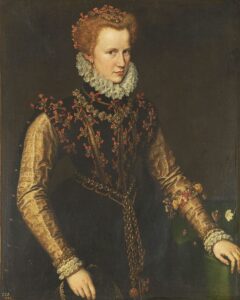 On this day in Tudor history, 6th January 1538, in the reign of King Henry VIII, Jane Dormer, Duchess of Feria, was born at Eythrope in Buckinghamshire.
Jane was a favourite of Queen Mary I, and was the one Mary trusted on her deathbed to deliver her jewels to her successor and half-sister, Elizabeth I. She married Gómez Suarez de Figueroa, Count of Feria, later Duke of Feria, in December 1558.
Let me give you a few facts about Jane Dormer...
Jane was the daughter of Sir William Dormer and his first wife, Mary Sidney.
Following her mother's death in 1542, Jane was brought up by her paternal grandmother, Jane, Lady Dormer, and was given a Catholic upbringing.
In 1547, when she was nine years old, Jane was admitted into the household of Princess Mary, the future Mary I.
When Mary I became queen in 1553, Jane was one of the ladies chosen to attend on her.
She was known for her beauty with one poet writing "Dormer is a darling and of such lively hue that who so feeds his eyes on her may soon her beauty view".
Jane met her husband, the Count of Feria in 1554, a favourite of Philip of Spain, when he accompanied the Spanish king to England in preparation for Philip's marriage to Mary I. Despite opposition from his family, the count made Jane his wife on 29th December 1558, not long after Elizabeth I had come to the throne.
In 1559, the couple left England and Jane gave birth to their first child, a son, Lorenzo, in September 1559 in the Low Countries. After Jane had recovered, they made their way to Spain, travelling through France, where they met Mary, Queen of Scots. Settled in Spain, Jane and the count opened their home to Catholic exiles from England, Ireland and Scotland, and they supported the Jesuits.
In September 1571, Jane lost her husband, the Duke of Feria, and her grandmother, Lady Dormer, who had helped exiles in Louvain. Jane became a leader of exiles and some English exiles put pressure on Philip of Spain to send Jane to the Low Countries to help neutralise opposition to Spain there. Philip didn't send her, but he did support her financially in her support of exiles. On the duke's death, Jane's son Lorenzo became duke.
In 1579, her role with the exiles was reduced when Sir Francis Englefield, her friend and fellow patron of exiles, settled in Spain and took over.
In the 1590s, Jane's relationship with her son, Lorenzo, soured for a time due to him opposing renewed plans for her to go and lead the exile community in the Low Countries. Jane, however, continued to support exiles and to try and influence Philip of Spain's policy towards England. Jane even presented the king with documents signed by herself, Englefield, and Jesuits Robert Persons and Joseph Cresswell asking Philip to proclaim his daughter Isabel as Queen of England and pushing for him to establish a council in the Low Countries which would focus on English affairs. Philip denied both requests.
In 1600, Jane wrote to James VI of Scotland, encouraging him to embrace Catholicism and when he came to the English throne in 1603 there were plans to send Jane back to England as a lady-in-waiting for his queen consort, Anne of Denmark. However, Lorenzo opposed the plan.
Lorenzo died in 1607, but Jane did not travel to England, suffering ill-health in her final few years.
Jane died on 13th January 1613 and was laid to rest in Spain, in the monastery of Santa Clara in Zafra.
Image: Portrait of an unknown woman thought to be Jane Dormer, Duchess of Feria.