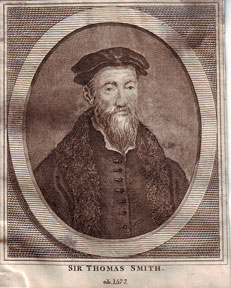 On this day in Tudor history, 12th August 1577, humanist scholar and diplomat Sir Thomas Smith died at Hill Hall in Essex. He was buried in St Michael's Church, Theydon Mount.
Smith served Elizabeth I as Chancellor of the Order of the Garter and as Secretary of State, but is known for his political books "The Discourse of the Commonweal" and "De Republica Anglorum; the Manner of Government or Policie of the Realme of England".
Here are some facts about Sir Thomas Smith:
Sir Thomas Smith was born on 23rd December 1513 at Saffron Walden in Essex and was the son of sheep farmer John Smith and hos wife, Anne Charnock.
He was educated at Queen's College, Cambridge, graduating in 1530 and attaining a Masters in 1532.
Henry VIII's physician William Butts noticed the young Smith and helped him become a king's scholar and public orator in 1533.
Smith became Regius Professor of Civil Law in 1540 and went to Europe to study law, returning to England in 1542.
Smith was of the Reformed faith and a humanist, like his friend, Sir John Cheke. The two scholars, as Ian W. Archer notes, "the reform of Greek pronunciation on Erasmian lines" and Smith wrote his "De recta et emendata Linguae Graecae pronuntatione" after Stephen Gardiner, Chancellor of Cambridge University, banned it. However, Smith backed down and this led to him being appointed vice-chancellor in 1543.
Smith's pupils at Cambridge included William Cecil and John Aylmer.
In February 1547, Edward Seymour, who had become Lord Protector for his nephew, the boy-king Edward VI, took Smith into his household. A month later, Smith was appointed clerk of the privy council. He also became MP for Marlborough and later that year was appointed Provost of Eton College.
In 1548, Smith was made Dean of Carlisle and in April 1548, he was appointed Secretary of State.
In 1549, at the fall of Thomas Seymour, Baron Seymour of Sudeley, Smith was involved in questioning the baron.
In April 1549, Smith was knighted.
When his patron, Edward Seymour, Duke of Somerset, fell from power in 1549, Smith lost his office of Secretary of State was imprisoned in the Tower of London for four months.
In 1551, Smith was sent on an embassy to France with the Marquess of Northampton regarding a marriage treaty between Edward VI and Princess Elisabeth of France.
Smith was not prominent under John Dudley, Duke of Northumberland, due to Smith's refusal to act against Stephen Gardiner.
Despite Smith's faith and the fact that he had moved against the Catholic Edmund Bonner, Bishop of London, during Edward VI's reign, he survived Mary I's reign, perhaps due to his good relationship with Stephen Gardiner, who served the queen as Lord Chancellor.
In Elizabeth I's early reign, Smith was MP for Liverpool.
Smith supported an English marriage for Elizabeth I which led to William Cecil opposing Smith replacing Sir Nicholas Throckmorton as ambassador to France. However, he was appointed in the role in 1562, serving there until 1566. In 1567, he was sent to France again to negotiate the return of Calais, which, of course, did not happen.
On his return to England, he served on the privy council and represented Essex in Parliament.
In 1571, Smith was once again sent to France regarding negotiations for the marriage of Elizabeth I and the Duke of Anjou. He negotiated the 1572 Treaty of Blois.
In 1572, Smith was made Chancellor of the Order of the Garter and Secretary of State, then in 1573, he was appointed Keeper of the Privy Seal.
Smith supported the idea of Irish colonisation in present-day County Down to ease the problems of overpopulation in England. The idea, however, was not supported by Sir William Fitzwilliam, Lord Deputy of Ireland, or by the native Irish or Old English families in the area. Smith's illegitimate son, who was sent on an expedition to Ireland to found the colony, was killed in the subsequent trouble. A further expedition in 1574 also failed.
Smith suffered from ill-health, His biographer Ian W Archer notes that he "was prone to bouts of nervous exhaustion when under stress" and that he also had recurrences of a fever he first suffered in France in 1564. He also suffered with sickness and headaches in 1572. By March 1576, Archer explains, Smith was suffering with throat cancer. He died on 12th August 1577.
Smith was married twice. His first wife was Elizabeth Carkeke, the daughter of a London printer, but she died in 1553, just five years into their marriage. In the summer of 1554, Smith married Philippa Wilford, widow of Sir John Hampden. She brought the manor of Theydon Mount, Essex, to the marriage. The manor comprised the houses of Hill Hall and Mounthall. The marriage was childless.
Smith's works included his defence "De recta et emendata Linguae Graecae pronuntatione" of the reform of Greek pronunciation on Erasmian lines against Stephen Gardiner, his 1568 "De recta & emendata Linguae anglicae scriptione, dialogus" (Correct and Improved English Writing, a Dialogue), his "The Discourse of the Commonweal", which he wrote in 1549 and which Archer describes as "the most impressive piece of economic analysis produced in the sixteenth century", and his "De republica Anglorum: the Maner of Gouernement or Policie of the Realme of England", which was written in the 1560s, in which "Smith offered a brief analysis of English society, and a fuller account of institutions and the legal system" (Archer).
Also on this day in Tudor history...
Image: A 19th century engraving of Sir Thomas Smith.
Notes and Sources