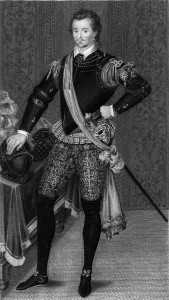 On this day in Tudor history, 7th August 1574, mariner, cartographer and landowner, Sir Robert Dudley, was born at Sheen House, Richmond.
Dudley was the illegitimate son of Robert Dudley, Earl of Leicester, by his lover Lady Douglas Sheffield, daughter of William Howard, 1st Baron Howard of Effingham, and widow of John Sheffield, 2nd Baron Sheffield.
Dudley matriculated from Christ Church, Oxford, in 1588 and inherited the lordships of Denbigh, Chirk and Kenilworth on the death of his uncle, Ambrose Dudley, Earl of Warwick, in 1590.
Dudley is known for his 1594 expedition to the West Indies, and for his publication of the maritime encyclopaedia "Dell'Arcano del Mare", a six part work containing a maritime atlas of the whole world and covering navigation, shipbuilding and fortifications, and astronomy.
Find out more about Dudley's mother, Lady Douglas Sheffield, who claimed to be the Earl of Leicester's legal wife, in this video:
Also on this day in Tudor history...
Image: Sir Robert Dudley, engraving after a portrait by Nicholas Hilliard.