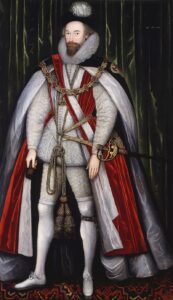 On this day in Tudor history, 24th August 1561, naval officer and administrator Thomas Howard, 1st Earl of Suffolk, was born.
Howard served Elizabeth I as vice-admiral in the 1596 Cadiz expedition and the 1597 voyage to the Azores, and as Constable of the Tower of London. He went on to have a distinguished career under James I until his fall in 1619.
Here are some more facts about Thomas Howard, Earl of Suffolk:
Thomas Howard, 1st Earl of Suffolk, was the eldest son of Thomas Howard, 4th Duke of Norfolk, and his second wife, Margaret Audley, daughter of Thomas Audley, 1st Baron Audley of Walden, and widow of Lord Henry Dudley.
In January 1564, when he was just two years old, Howard's mother died and he inherited her estates, which included the manor of Saffron Walden.
Howard was educated at the Universities of Cambridge and Oxford and also Gray's Inn, one of London's inns of the court.
Howard's father, Thomas Howard, 4th Duke of Norfolk, was executed in 1572 as a traitor.
Apparently, while his father was imprisoned in the Tower awaiting his execution, he advised Howard to marry his stepsister, Mary Dacre, daughter of his father's third wife, Elizabeth Leybourne, by Thomas, 4th Lord Dacre of Gilsland. Howard died this sometime before May 1577. However, Mary died in April 1578.
In around 1583, Howard married Katherine Knyvett, daughter of Sir Henry Knyvett of Charlton, Wiltshire, and widow of Richard Rich. Together they had eleven children, including Theophilus Howard, 2nd Earl of Suffolk, Theophilus Howard, 2nd Earl of Suffolk, and Edward Howard, 1st Baron Howard of Escrick.
In 1584, Elizabeth I allowed Howard to be restored in blood as Lord Thomas Howard.
In 1588, he was knighted by his cousin, Charles Howard, Lord Howard of Effingham, on board the Ark Royal, after he had successfully captained the Golden Lion in an attack on the Spanish Armada.
In 1591, Howard commanded an expedition to the Azores with the aim of capturing a Spanish treasure fleet. Unfortunately, his ships were forced to retreat after being outnumbered.
In 1596, he served as vice-admiral in a successful expedition to Cadiz, which saw the town being captured.
In 1597, he was elected to the Order of the Garter.
In the summer of 1597, Howard was involved in another failed expedition to the Azores, after which he fell seriously ill.
In October 1597, Elizabeth I called the ill Howard to Parliament as Lord Howard de Walden. He was unable to attend Parliament due to his ill-health until January 1598.
In 1598, Howard was made Lord Lieutenant of Cambridgeshire and the Isle of Ely.
In 1601, he was made Constable of the Tower of London and was appointed to the commission which tried Robert Devereux, Earl of Essex, after his rebellion.
Howard served as High Steward of the University of Cambridge from 1601-1614.
In December 1602, Howard became Lord Chamberlain of the Royal Household.
Howard was good friends with Sir Robert Cecil.
In January 1603, Howard entertained the queen at his London property, Charterhouse.
In April 1603, while the new king, James I, was on the way to London, he appointed Howard as Lord Chamberlain of the Household and as a privy councillor. Howard was one of the men who greeted the king as he arrived at Robert Cecil's home, Theobalds. In May 1603, Howard hosted the king at Charterhouse.
In July 1603, Howard was created Earl of Suffolk and he was appointed to the commission making Knights of the Bath for the king and queen's coronation.
From 1604-1618, Howard served as joint commissioner for the Earl Marshalcy, and in 1605, he was made Lord Lieutenant of Suffolk.
Howard's wife, Katherine, who was said to have loose morals and was rumoured to be a mistress of Robert Cecil, was given an annual pension by the Spanish as an informant and advisor.
By 1605, Howard, and the Earls of Salisbury, Northampton, Worcester and Somerset were King James I's most trusted advisors. It was they who received Lord Monteagle on 26th October 1605 when he came with an anonymous letter giving details of the Gunpowder Plot. It was Howard, as Lord Chamberlain, who was in charge of inspecting the Palace of Westminster and who spotted the pile of brushwood that was then found to be hiding barrels of gunpowder. Howard was also on the commission that tried the Gunpowder plotters.
In November 1605, Howard was appointed captain of the king's gentleman pensioners.
In 1608, Howard's daughter, Catherine, married William Cecil, son and heir of Robert Cecil, Earl of Salisbury.
In 1613, Howard's daughter, Frances, married royal favourite Robert Carr, Earl of Somerset, after divorcing Robert Devereux, 3rd Earl of Essex, with the support of her father.
In 1614, Howard was made Chancellor of Cambridge and Lord Treasurer. His son-in-law, the Earl of Somerset, succeeded him as Lord Chamberlain.
In 1615, Howard played host to the king at Cambridge.
In May 1616, Howard's daughter, Frances, and Somerset were found guilty of the murder of Sir Thomas Overbury, who had been poisoned in the Tower of London. They were imprisoned but freed in 1622.
Howard declined in favour with the king after the rise of Sir George Villiers as the king's favourite. After Howard tried to put an end to Villiers' influence by trying to push a young handsome man at the king, Villiers turned on Howard, who ended up being suspended and then dismissed as Lord Treasurer after accusations of financial misconduct, including his wife extorting bribes before payments were issued by the exchequer. In 1619, Howard and his wife, and an exchequer official, were tried for corruption in the Star Chamber. The trial lasted eleven days and the three of them were found guilty, fined and imprisoned. The couple spent just ten days in the Tower of London, but Howard further angered the king by removing furniture from his houses and placing his lands in trusts to try and protect his assets from being seized. However, Villiers, now Duke of Buckingham, interceded on Howard's behalf, since Howard was now no threat, and at an audience with the king, Howard was able to kiss the king's hand and the majority of his fines were remitted.
In 1623, Howard's youngest son, Edward, married Mary Boteler, niece of the Duke of Buckingham.
Although Howard had lost the king's favour, he did continue serving in the House of Lords and also served as a commissioner for ecclesiastical causes.
In 1625, King Charles I reappointed Howard as Lord Lieutenant of Suffolk and also of Cambridgeshire and Ely, and Dorset.
Thomas Howard, 1st Earl of Suffolk, died on 28th May 1626 at his home at Charing Cross. He was laid to rest in the Howard vault at the parish church at Saffron Walden. He died heavily in debt.
Also on this day in Tudor history...
Image: Portrait of Thomas Howard, Earl of Suffolk, English School c.1598
Notes and Sources
Croft, P. (2004, September 23). Howard, Thomas, first earl of Suffolk (1561–1626), naval officer and administrator. Oxford Dictionary of National Biography. Retrieved 23 Aug. 2023, from https://www.oxforddnb.com/view/10.1093/ref:odnb/9780198614128.001.0001/odnb-9780198614128-e-13942.