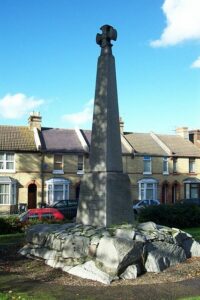 This week's #MondayMartyrs are the Canterbury Martyrs of 1555.
Protestants William Coker, William Hopper, Henry Laurence, Richard Colliar (or Collier), Richard Wright, and William Stere were burnt at the stake in Canterbury on 23rd August 1555, in the reign of Queen Mary I.
Martyrologist John Foxe tells the story of these "Kentish men" who were "called forth and examined by Thornton, bishop of Dover, Nicholas Harpsfield, Richard Faucet, and Robert Collins". Here are some facts about them, as shared in Foxe's Book of Martyrs:
Foxe states that William Coker was condemned on 11th July and William Hopper on 16th July.
Henry Laurence was condemned on 2nd August for "denying auricular confession", refusing to receive the sacrament because "the order of the Holy Scriptures is changed in the order of the sacrament", for not putting his cap on when the suffragan mentioned the sacrament, and calling the sacrament of the altar an idol. Foxe describes how Laurence then wrote "Ye are all of antichrist, and him ye fol" under the bill of the men's examinations.
Richard Colliar was condemned on 16th August after stating that the sacrament was still "only bread and wine" after consecration and that it was "most abominable, most detestable, and most wicked, to believe otherwise".
Richard Wright was also condemned on 16th August after being examined on his beliefs regarding the sacrament of the altar and answering that "he was ashamed to speak of it, or to name it, and that he allowed it not, as it was used in the church".
William Stere of Ashford was also condemned on 16th August. He refused to recognise the authority of the judge and Bishop of Dover, stating that the imprisoned Thomas Cranmer, Archbishop of Canterbury, was his diocesan and so his authority was required. He stated that the sacrament of the altar was not found in Scripture and, after the judge had passed sentence on him, stated that "the sacrament of the altar was the most blasphemous idol that ever was".
All six men were burnt together in Canterbury "at three stakes and one fire".
Image: Martyrs Monument, Martyrs Field Road, Canterbury, © Copyright Elliott Simpson and licensed for reuse under the Creative Commons Licence, https://www.geograph.org.uk/photo/367359
Notes and Sources