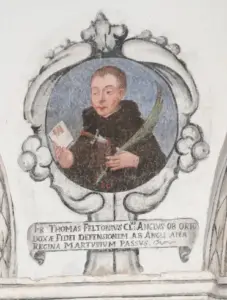 On this day in Tudor history, 28th August 1588, in the reign of Queen Elizabeth I, Franciscan friar Thomas Felton was hanged near Brentford, Middlesex.
Felton was executed for his beliefs, and for proclaiming that he could not accept a woman as supreme head of the Church.
Here are some facts about Thomas Felton:
Thomas Felton was born c.1567 at Bermondsey Abbey in Surrey.
He was the son of Blessed John Felton, who'd been executed for his Catholic faith on 8th August 1570 when Thomas was around three years of age. John had been hanged after nailing the bull of excommunication of Elizabeth I to the door of St Paul's Cathedral.
Thomas's mother had served Mary I as a maid of honour and had also been a playmate of Elizabeth I when they were young. J H Pollen writes that their former friendship led to Elizabeth I granting Mrs Felton permission to keep a priest.
As his father's possessions had been forfeit to the Crown and his mother left in a difficult position, Thomas was taken into the household of Lady Lovell to act as her page. He was then sent to the English College at Reims.
In September 1583, Thomas was tonsured by Cardinal de Guise, Archbishop of Reims. He then entered the Order of St Minims of St Francis of Paula before ill-health caused him to return to England.
After he had recovered his health, Thomas decided to return to France but was apprehended at the coast and taken to London to be examined. He was imprisoned in the Poultry Compter for two years and then released after his aunt, a "Mrs Blount, interceded on his behalf.
Thomas once again tried to leave England and again was apprehended. He was imprisoned in Bridewell Prison but released after his former employer Lady Lovell, who was imprisoned in the Fleet, interceded. However, he was soon back in Bridewell.
Thomas was tortured by being put in the Little Ease for three days and three nights and fed only bread and water. Then he had to work in the mill, again only being given bread and water. After that, he was hanged by his hands. However, Thomas would not part with any information on priests in England or on the Continent, even when his fingers started bleeding. He may also have been flogged.
His sister Frances told of how he was taken into the chapel at the prison "fast bound in a chair" but with his hands free. He refused to listen to the Protestant service and put his fingers in his ears and stamped his feet and shouted so that nobody else could hear.
Thomas was transferred to Newgate Prison and there, according to Father Robert Southwell, was kept in chains for 15 weeks in a dark dungeon known as "Limbo".
Thomas was tried at Newgate shortly after the defeat of the Spanish Armada. He was asked whether he would have taken his queen's side or that of the pope and Spain if there had been a Spanish invasion. He replied "That he had read divers chronicles, but never read that God ordained a woman should be supreme head of the church." He was then condemned to death along with another priest, James Claxton.
On 28th August 1588, Thomas Felton and James Claxton were taken to Brentford to be executed. Bishop Richard Challoner, who used a manuscript from Thomas's sister, writes that Thomas's friends had got him a pardon but that he refused it, "choosing rather to die for God, than to live any longer in this world."
Also on this day in Tudor history...
Image: Fresco of Blessed Thomas Felton by Greco Bernardino.
Notes and Sources
Challoner, R (1839) Memoirs Of Missionary Priests And Other Catholics Of Both Sexes That Have Suffered Death In England On Religious Accounts From The Year 1577 To 1684, Two Volumes In One, pp. 134-136.
Pollen, John Hungerford (1914) Lives of the English Martyrs, pp. 399-407.