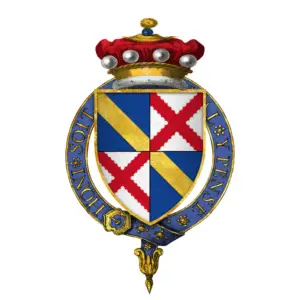 On this day in Tudor history, 17th August 1498, soldier and royal councillor John Scrope, 5th Baron Scrope of Bolton, died.
The Yorkist Scrope was lucky to die a natural death. It is likely that he fought on King Richard III's side at the Battle of Bosworth against Henry Tudor in 1485, but escaped punishment by Henry, who won the battle and was crowned King Henry VII. Scrope was imprisoned two years later after supporting the pretender Lambert Simnel. However, he was released and went on to prove his loyalty to Henry VII.
Here are some facts about John Scrope, 5th Baron Scrope of Bolton:

Scrope was born on 22nd July 1437 (or 1438). He was the eldest son of Henry Scrope, 4th Baron Scrope of Bolton, and his wife, Elizabeth, who was the daughter of John Scrope, 4th Baron Scrope of Masham.
In around 1457, he married Joan FitzHugh, daughter of William FitzHugh, 4th Baron FitzHugh. They went on to have a son, Henry, before Joan died sometime before 1470.
Scrope's father died in 1459 and so Scrope became the 5th Baron.
In 1460, Scrope was knighted.
From 1461, Scrope served on the commission of the peace for Cambridgeshire and also served on the commission for the North Riding of Yorkshire.
In around 1462, Scrope and Joan were admitted to the city of York's Guild of Corpus Christi.
By 1463, Scrope was a Knight of the Garter and served as Captain of Newcastle from December 1463.
During the Wars of the Roses, Scrope was seriously injured at the Battle of Towton fighting on Edward IV's side and in 1469 he sided with the Earl of Warwick against Edward, but was fortunately forgiven, even though he did that twice.
By the end of 1471, Scrope had married Elizabeth, daughter of Oliver St John. They had a daughter, Mary.
In 1474, Scrope served on the commission negotiating a match between Cecily of York, daughter of Edward IV, and James, the son of King James III of Scotland, and stood as proxy at their betrothal.
In 1475, he served alongside Edward IV in France, and in 1475-6 he accompanied Earl Rivers on a mission to Milan and Rome.
From at least 1475, he acted as a councillor to Richard, Duke of Gloucester, and in 1482, served as a commander in Richard's army against Scotland. In February 1483, he helped negotiate a treaty with the Duke of Albany, brother of King James III.
After the death of Edward IV and the accession of Richard, Duke of Gloucester as King Richard III, Scrope was made chamberlain of the Duchy of Lancaster.
In 1484, Scrope was made constable of Exeter Castle and granted lands in the south-west.
In Henry VII's reign, Scrope was imprisoned in Windsor Castle after supporting pretender Lambert Simnel in 1487 and attacking the city of York with his cousin, Thomas, Lord Scrope of Masham. Fortunately, he was pardoned in 1488.
In around 1491, having lost his second wife, Scrope married Anne, daughter of Sir Robert Harling of East Harling in Norfolk, and widow of Sir William Chamberlaine and Sir Robert Wingfield. The marriage was childless.
In 1492, Scrope accompanied Henry VII on his campaign in France.
In 1494, he was made a commissioner of the peace in Norfolk and in 1497 he served under the Earl of Surrey at the siege of Norham Castle.
Scrope died on 17th August 1498. His wife died on 18th September 1498.
Scrope's only son, Henry, inherited his father's title and lands, becoming 6th Baron Scrope of Bolton. He married Elizabeth Percy, daughter of Henry Percy, 3rd Earl of Northumberland.
Scrope's daughter Mary married Sir William Conyers of Hornby.
Also on this day in Tudor history...
Notes and Sources