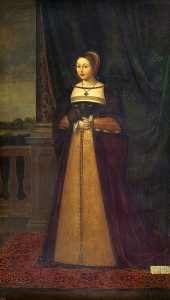 On this day in Tudor history, 8th August 1503, King Henry VII's eldest daughter, Princess Margaret Tudor, married King James IV of Scotland at Holyrood Abbey.
The couple had been married by proxy on 15th January 1503 with Patrick Hepburn, the Earl of Bothwell and Lord High Admiral of Scotland, standing in for James. Bothwell was the great-grandfather of James Hepburn, 4th Earl of Bothwell, husband of Mary, Queen of Scots.
Margaret was just thirteen years old and James was thirty, and their marriage had been arranged by the 1502 Treaty of Perpetual Peace between England and Scotland.
Margaret had six children by James before her husband died at the Battle of Flodden in September 1513. However, only one survived infancy and he became King James V of Scotland.
Also on this day in Tudor history...
Image: A portrait of Margaret Tudor by Daniel Mytens.