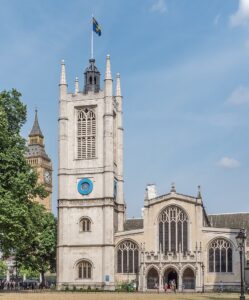 On this day in Tudor history, 9th August 1557, composer Nicholas Ludford was buried in St Margaret's Church, Westminster, in a vault with his first wife, Anne..
Ludford is known for his festal masses, which can be found in the Caius and Lambeth choirbooks (1521-27) and the Peterhouse partbooks (1539-40).
His biographer David Skinner described Ludford as "one of the last unsung geniuses of Tudor polyphony".
Here are some more facts about Nicholas Ludford:
He was born in c.1490, but little is known of is beginnings and background. He was renting lodgings from Westminster Abbey in 1517.
Ludford had joined the fraternity of St Nicholas, the London Guild of Parish Clerks, by 1521.
By the early 1520s, he was working at the royal collegiate chapel of St Mary and St Stephen in the Palace of Westminster.
In 1527, Ludford was appointed verger at the chapel.
In 1548, when the chapel was dissolved, Ludford received an annual pension.
In the early 1550s, he was a churchwarden of St Margaret's, Westminster.
In 1552, his first wife, Anne, was buried at St Margaret's, and he went on to marry Helen Thomas.
David Skinner notes that "His musical style owes much to his earlier contemporary Robert Fayrfax (1464–1521), who was instrumental in refining cyclic mass composition in England."
Ludford does not seem to have continued composing church music following the Reformation.
Here is a playlist of Nicholas Ludford's compositions:
Also on this day in Tudor history...
Image: A photo of St Margaret's, Westminster, by Reinhold Möller, Wikimedia Commons.
Notes and Sources