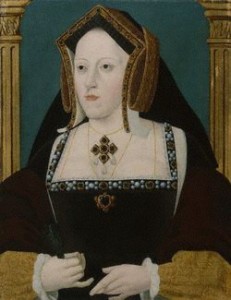 Katherine of Aragon was born into the royal Spanish household on 16th December 1485, at the Archbishop's Palace of Alcalá de Henares. She was the daughter of King Ferdinand II of Aragon and his illustrious wife, Isabella I of Castile. Katherine's parents were the Catholic powerhouses of Western Europe during the late fifteenth century, therefore during her youth, the young Spanish princess would have envisioned the grand future that awaited her, with an ambitious marriage into an equally powerful European royal household.
At aged just three, her parents were in negotiations with the English king, Henry VII, for a suitable marriage to his son, Arthur. The Tudors had recently taken the throne after defeating the Yorkist Richard III at Bosworth in 1485, although their Lancastrian claimant to the throne was still vulnerable to usurpation. England required international support to ensure the legitimacy and security of their house. An Anglo-Spanish alliance would be vitally important for the country's prosperity and position in European politics.
Discussions furthered in 1497, with mutual agreements that the royal couple would be wed once Arthur had turned fourteen. In March 1501, serious preparations began for Katherine's journey from her native country to England, culminating in Katherine's arrival at Plymouth on 2 October after violent weather threatened to postpone the crossing. Upon Katherine's arrival, a courtier who accompanied her wrote to inform Katherine's mother that the young princess "could not have been received with greater rejoicings if she had been the saviour of the world." This must have been reassuring for Isabella, who in previous years had experienced the loss of her daughter, Isabella of Portugal, in 1498, and her only son and heir, John, in 1497.
The Anglo-Spanish alliance was sealed with the marriage of the two royals on 14 November 1501. Katherine would likely have felt anxious by the situation - a result of isolation, minus her Spanish entourage, and from an inability to communicate in English. The Latin the royal couple had previously communicated with in letters with was now useless, due to differences in international dialect and pronunciation. Shortly after their marriage, they set up residence at their primary seat of Ludlow Castle. This was to be an unfortunately short-lived marriage, with Arthur passing away on 2 April 1502, aged 15, leaving the Spanish princess in a state of uncertainty, and more importantly, widowed. During this highly challenging situation, the foundation of the Anglo-Spanish alliance, which had been processing for over a decade, had suddenly dissolved. Ferdinand and Isabella realised that after the exhausting journey from Spain to England it would be foolish to end such a beneficial alliance, and expressed joy for the possibility that Katherine still had the opportunity to be England's queen, by marrying Arthur's younger brother, Henry. With issues regarding affinity, a dispensation had to be put forward to Rome to validate the marriage and ensure that Arthur and Katherine had not consummated their union. During the negotiations, Katherine's mother died in November 1504, shattering the union of the Spanish kingdoms of Castile and Aragon that Katherine's parents had formed through their marriage. Under such circumstances, Katherine's value on the international marriage market diminished. She was not so desired, with her future inconspicuously under the authority of Henry, who was sceptical regarding her future worth in England. The widowed princess was essentially stranded, without support or substantial financial aid befitting a woman of her status, and once stated that she required money, "not for extravagant things, but only for food," and that she was "in the greatest trouble and anguish in the world." Plans had been arranged for Katherine's return to Spain, as a marriage did not seem imminent. However, the year 1509 brought an unexpected event, the death of Henry VII. This enabled the new king, Henry VIII, to marry his brother's widow.
Katherine of Aragon married King Henry VIII on 11 June 1509 and was two weeks later crowned at Westminster Abbey. The king was nearly eighteen, described as incredibly handsome by contemporary standards and an impeccable athlete. Katherine was the virtuous wife, noted as being "the most beautiful creature in the world." Thomas More, a fervent supporter of her, would later state that "there were few women who could compete with the Queen in her prime." She proved to be politically able, and as Henry prepared for war in 1512, Katherine was keen to observe. The Venetian diplomat once reported that "the king is for war, the council against, and queen for it." Katherine was determined to support her husband as a devoted queen consort. As he embarked on his campaign, capturing the town of Tournai, Katherine became the "Regent and Governess of England, Wales and Ireland," (as Katherine Parr would in 1545), possessing the authority to raise troops against the Scots. Not only was England at war with France, but the latter had reinvigorated the 'auld alliance', resulting in Scottish troops crossing the border with England. Contemporary historian, Peter Martyr, stated that "queen Katherine, in imitation of her other, made specific oration to the English captains, and told them to be ready to defend their territory." She took her role as Regent with the utmost earnestness and manifested a sense of authority and queenly power during this short period regency.
Although the 1510s appeared to far outshine her difficult life during previous decades, Katherine's main duty as queen consort was to produce male heirs for her husband, the realm, and the succession. During the years 1509-1520 Katherine managed to provide one surviving child, the Princess Mary in 1516. Unfortunately, she experienced several stillbirths and infant deaths. The arrival of a son, Henry, Duke of Cornwall in 1511, was a monumental event in Tudor history. The royal family were ecstatic and enjoyed lavish celebrations in honour of the new prince's birth. Sadly, these celebrations were all but temporary, as the prince suddenly died fifty-two days later.
The king doted on Princess Mary, and she was clearly well received. According to the Venetian ambassador, Sebastian Giustinian, the King "drew near, knelt and kissed her hand, for that alone is kissed by any duke or noble of the land." Although disappointed she was not a son, Henry acknowledged the importance of having a daughter for the royal marriage market. The queen took a vital interest in involving herself with Mary's education, the princess being an important instrument in European politics, with hopes of a French alliance with the Dauphin of France. This Anglo-French alliance would be solidified by their meeting a year later at the opulent, yet diplomatic, event of the Field of Cloth of Gold.
Katherine had drawn on her own education and experience, consulting leading scholars to commission educational treatises for Mary's programme of education. Desiderius Erasmus, a friend of Katherine and an eminent continental scholar, produced 'The Institution of Christian Prince' in 1516, however, Katherine required a virtuous manual for a girl, and so she commissioned Juan Luis Vives to write one. Although encouraging female education, Vives' treatise stressed the importance of a woman's roles as a man's subjugated companion, with her primary goals being virtue and chastity. Erasmus, complimenting Katherine, wrote to her that "your qualities are known to us..we expect a work no less of your daughter Mary." With hindsight, Mary grew to be just like her mother, a greatly educated woman of piety and one skilled in the language of Latin and courtly pursuits, such as dancing and singing.
The 1520s brought inconvenience for Katherine, as the period would later become known in contemporary popular culture as 'the king's great matter.' Henry's eye was drawn to a new lady at court, a woman by the name of Anne Boleyn. Highly educated and cultivated, and from a successful family, Anne had recently arrived back in England from the sparkling French court. Sources differ as to her role at court and when the king first noticed her, but her debut at court appears to have been the Shrovetide pageant of 1522, when she played the part of Perseverance. It was probably not until 1526 that Henry revealed a true interest in her, beginning with the now famous exchanges of love letters between them. Sadly, none of Anne's letters survive, but from Henry's letters it is clear that he was besotted, stating in one of his letters "beseeching you earnestly, to let me know expressly your whole, mind as to the love between us two." It was common, within the chivalrous tradition of courtly love, to expressively flirt, however, Henry's letters exceed the usual conventions of courtly flirtation. Equally important to note is Henry's dislike for letter writing, usually giving this laborious chore to his ministers. Therefore, the fact that these fifteen letters are written in his own hand reveals a prolonged desire to be in Anne's company.
Henry's love for Anne was becoming a poorly kept secret at court, and by the spring of 1527, he began to doubt the validity of his marriage to Katherine. Anne was no fool; she had refused his offer of being his mistress, a position that would only be temporary. The king realised that by marrying her, he could remove and replace Katherine and be in a far more realistic position to have another child. His offer of marriage changed Anne's response entirely and, accepting Henry's own conviction that he was in law free to marry, she agreed in the summer of 1527 to be his wife. The issue of annulment would be a difficult process. Katherine was defiant and refused to submit to the annulment that was proposed. She passionately displayed resilience, contending that her marriage to Arthur had never been consummated, proving her legitimacy as Henry's true wife. In May 1529, a court was convened in London to challenge the notion that Henry VIII's marriage to Katherine was wholly invalid and that an annulment could be granted. Katherine opposed the annulment at court, falling to her knees in the king's presence and saying: "Sir, I beseech you, for all the loves that hath been between us, and for the love of God, let me have justice and right. Take of me some pity and compassion, for I am a poor woman and stranger born out of your dominion." Alongside Katherine's fervent refusal to accept Henry's demands, removing her, an anointed queen from an influential European family, was not going to be as expeditious as had been expected. With such a separation, Henry implicitly encouraged the wrath of Katherine's powerful imperialist relatives from the continent.
During the initial years of Anne Boleyn's rise, Katherine remained at court but rarely spent time personally with the king, as his attention was firmly on entertaining Anne Boleyn. The king's quest for an annulment resulted in the systematic collapse of relations between Rome and England, with the latter no longer being able to enjoy influence with Rome; the Pope refusing to acknowledge his annulment as legitimate. The proposed marriage to the 'concubine,' a sobriquet that Anne was familiarly becoming known by from those sympathetic to Katherine, was simply not open to discussion from a clerical and moral perspective. From 1534, England would be changed; Henry became the new head of the 'Supreme Church of England', a church broken from papal authority that formed its own practices, despite remaining wholly Roman Catholic in tradition and ceremony until further reforms. Katherine was determined and never ceased in referring to herself as the rightful, true queen of England, and Henry's lawful wife by divine right. The Duke of Suffolk, (a supporter of Katherine and enemy of the Boleyn faction at court) reported to the king that Katherine was to obey, "but she owed obedience to two persons first". Suffolk stated that these obediences were to "God first; and secondly to her soul and conscience."
As relations between Henry and Anne increased, Katherine's time at court was limited. She was soon discreetly transferred from court, firstly to The More, near St Albans, and then to Kimbolton Castle, a remote and undignified residence far from Henry's activities in London. She was also provided with a new title, the Princess Dowager of Wales, a title she would refuse to acknowledge. These years of misery were significantly apparent when she would no longer be able to visit or receive visits from the Princess Mary; even in her mother's final days, Mary was not permitted to visit her dying mother. Regardless, Katherine remained truly subservient to the king. In June 1533, she wrote of her many feelings for him: "the great love that hath been betwixt him and me ere thus..the which love in me is as faithful and true to him, as ever it was." Katherine lingered at Kimbolton for the remainder of her life but sought comfort in her growing piety and devoted staff. She would receive the presence of her favourite and dear friend, imperial ambassador Eustace Chapuys, who, under Henry's authority, was able to visit her in her final days.
Katherine still held enormous influence with her former staff, receiving her former lady-in-waiting and confidante, María de Salinas, when the latter had received news of her mistress's final illness. The former Queen of England's prolonged melancholy ceased on 7 January 1536, just weeks before Anne Boleyn would miscarry her final pregnancy. Almost as if fate transpired from her death, Henry experienced a serious accident when he fell from his horse during a joust, remaining unconscious for two hours. Katherine's death was heavily mourned by the English and those at court who had supported her and the Princess Mary; but for Anne Boleyn, it must have been a welcome relief, her opposition had finally departed. Henry's final act of disgrace was to use the style of Katherine's funeral to indicate his continuing dislike and belief that she was never his wife, nor queen of England. She was buried at Peterborough Cathedral, with all due grace, but not befitting the burial of an anointed queen, and he demanded her jewels be returned to him immediately. Henry was, by the time of Katherine's death, separated from Rome, established as the newly appointed head of the Church of England, and expecting a baby from his second wife; Katherine's death did not have an overly negative effect on his moral conscience.
Written by Alexander Taylor.