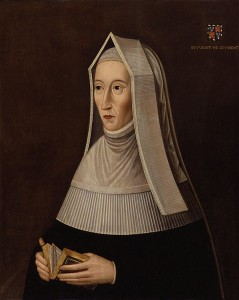 Lady Margaret Beaufort, Countess of Richmond and Derby, mother of King Henry VII and grandmother of King Henry VIII, was born at Bletsoe Castle in Bedfordshire on 31st May 1443. She was the daughter of Margaret Beauchamp of Bletsoe and John Beaufort, 1st Duke of Somerset, grandson of John of Gaunt, 1st Duke of Lancaster, and his mistress (and eventual wife) Katherine Swynford.
You can read a bio of her in our article Lady Margaret Beaufort and you may also be interested in the following resources:
Margaret Beaufort's Ordinances – A Claire Chats video talk about the Ordinances by Margaret, Countess of Richmond and Derby, as to what Preparation is to be made against the Deliverance of a Queen, as also for the Christening of the Child which she shall be delivered, ordinances written by Margaret Beaufort, Henry VII's mother, in 1486 when Elizabeth of York, her daughter-in-law, was expecting her first child.
An expert talk from Livi Michael, author of Succession who talks about Margaret Beaufort, who was a key character in her boo.