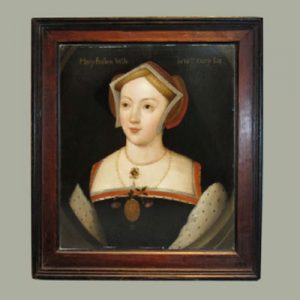 Ann Henning Jocelyn, writer and director of "The Sphere of Light: The Anne Boleyn saga as never told before" has asked me to share this information about the play. If you can get to Cambridge in the UK then do go and see it and then let us know what it was like.
Here are the details:
To be presented as a rehearsed reading at the Howard Theatre, Downing College, Cambridge, on July 1st, 2017, at 4 PM and 8 PM.
Tickets at £12/10 from www.adcticketing.com Tel: 01223 300 085.
SPONSORED BY THE HOWARD FOUNDATION.
Ann Henning Jocelyn's intriguing new play unfolds like a detective story, exploring the many mysteries surrounding the fate of the Boleyn family. Whilst thoroughly researched and historically accurate, the play is a character-driven drama focused on gender dynamics and as such timeless and universal.
The author's interest in the subject stems from the discovery that she is married to a descendant of Lord Hunsdon, son of Mary Boleyn and, presumably, King Henry VIII. Decades of research opened up many unanswered questions until finally, an ancient tombstone found at an Irish Tudor castle provided the cue to a highly plausible new scenario.
Her previous plays have been performed in various venues, at home and abroad, including the acclaimed West End production of Only Our Own: "…immensely powerful… it tackles a huge theme with dynamic artistry." (Loyd Evans, The Spectator).
CAST:
George Boleyn the Younger, Dean of Lichfield - Keith Chanter
Jane Boleyn, Lady Rochford - Catherine Denning
Mary Boleyn - Eavan Murphy
George Boleyn the Older, Lord Rochford - Rob Madeley
Anne Boleyn, Queen of England - Sarah O'Toole
Elizabeth Boleyn, Countess of Wiltshire & Ormond - Elaine Montgomerie
Balladeer - Rob Madeley
DIRECTED BY Ann Henning Jocelyn.
Author's Notes
My interest in the Boleyn family stems from the discovery that I am the wife and mother of two direct descendants of Henry Carey, Lord Hunsdon, son of Mary Boleyn and, presumably, King Henry VIII of England. Hunsdon, first cousin and presumed half-brother to Queen Elizabeth I, rose to eminence during his lifetime. As Lord Chamberlain, he was the patron of Shakespeare's company, The Lord Chamberlain's Men. On his death, he was given an impressive memorial in Westminster Abbey, and the Carey family remained close to the crown for centuries.
Having had my curiosity kindled by family sources and myth, I spent decades of research, reading all I could find of published material about the Boleyns. Like many others, I was intrigued by the mysteries surrounding this family: Why was Mary, the king's sweetheart, suddenly dropped without an explanation? Why were Thomas and George Boleyn, favourites of the king, ignominiously stripped of their high offices in late 1525, only to be gloriously reinstated a few months later? What drove the king to risk so much to make Anne his wife? Why did the ambitious George settle for a loveless marriage of little material or social benefit? Why were Anne and George and four of the king's friends and close associates executed, on apparently trumped-up charges of adultery, incest and treason? And what induced Jane, first to give fatal evidence against her own husband and sister-in-law, and, at a later date, to encourage Queen Catherine Howard to commit adultery, at the expense of her own head?
The various hypotheses put forward so far all failed to convince me. And then suddenly, to my great surprise, a breakthrough presented itself in the West of Ireland. A lecturer from Galway University mentioned in passing that, in the grounds of Clonony Castle in Co. Offaly, he had come across an old tombstone bearing the following inscription:
"HERE UNDER LEYS ELISABETH AND MARY BULLYN DAUGHTERS OF THOMAS BULLYN SON OF GEORGE BULLYN THE SON OF GEORGE BULLYN VISCOUNT ROCHFORD SON OF SIR THOMAS BULLYN ERLE OF ORMOND AND WILLSHEERE" 
Another mystery: historians agree that no evidence exists of George and Jane Boleyn ever having had any offspring. One George Boleyn, documented in the late sixteenth century as Dean of Lichfield, has been dismissed as "some distant relation". This tombstone, suggesting otherwise, led me to me to a highly plausible explanation that, amazingly, no one else ever seems to have explored. As a playwright, I chose to express my theory dramatically: THE SPHERE OF LIGHT is the result.
My Irish family is still in possession of the only known sixteenth-century painting of Mary Boleyn, as well as a rare oil portrait of Lord Hunsdon. The picture of Mary was stolen in 1990, in an aggravated burglary that cost my father-in-law his life. Twenty-three years later, in 2013, it surfaced in the catalogue of a Paris auction house. Scotland Yard and Interpol were alerted, but the consignor, a private French collector, claimed ownership under French law. It took my son a trip to Paris and some heart-rending negotiation to buy the picture back. Mary is now reunited with her son, tucked away in safe-keeping, though as I write, copies of their likenesses look down at me from the wall.