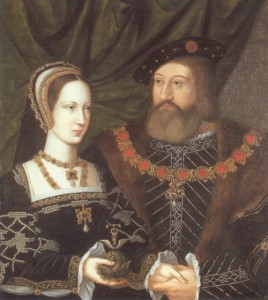 On this day in history, Sunday 13th May 1515, Mary Tudor, dowager queen of France and sister of King Henry VIII, married Charles Brandon, Duke of Suffolk, at Greenwich Palace, following their secret marriage in France. They were married in the presence of the king, Queen Catherine and the court:
"all preparations made for that purpose, and the banns openly asked, the said marriage between the said queen and Duke was solemnized at Greenwich, in presence of the King and Queen and such other nobles and estates of this realm as then were attending in the court, on Sunday the 13th day of this instant month of May. And with the same all the said estates and others of this realm be very glad and well pleased."
The Venetian ambassadors, Andrea Badoer and Sebastian Giustinian, who were in London at the time, recorded the event in a letter to the signory written on 15th May 1515:
"On the 13th instant the espousals (le sponsalitie) of Queen Mary to the Duke of Suffolk at length took place; there were no public demonstrations, because the kingdom did not approve of the marriage. Wishing to ascertain whether this marriage had been concluded with the King's consent, were assured by great personages that it had first been arranged between the bride and bridegroom, after which they asked the consent of King Henry, who, however, had maintained his former friendship for the Duke, which would appear incredible, but is affirmed by the nobility at the Court. Have, therefore, abstained from paying any compliments either to the King or to the bride and bridegroom, but have determined to visit his Majesty in a day or two, and congratulate him on his sister's arrival. Should they understand that the great personages of the Court intend to make public mention of the event, and that it was celebrated, they would then offer congratulations in the Signory's name on the marriage, but not seeing it solemnized as becoming, would keep silence, to avoid giving offence."
The couple stayed married until Mary's death on 25th June 1533.
Notes and Sources
Henry VIII: May 1515, 1-15', in Letters and Papers, Foreign and Domestic, Henry VIII, Volume 2, 1515-1518, ed. J S Brewer (London, 1864), pp. 118-133. British History Online http://www.british-history.ac.uk/letters-papers-hen8/vol2/pp118-133, 468.
'Venice: May 1515', in Calendar of State Papers Relating To English Affairs in the Archives of Venice, Volume 2, 1509-1519, ed. Rawdon Brown (London, 1867), pp. 242-246. British History Online http://www.british-history.ac.uk/cal-state-papers/venice/vol2/pp242-246.
Gunn, Steven (2015) Charles Brandon: Henry VIII's Closest Friend, Amberley Publishing.