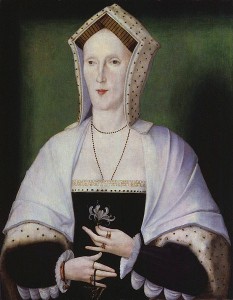 Margaret Pole, Countess of Salisbury, born on 14 August 1473, was the only surviving daughter of George, Duke of Clarence, and his wife, Isabel Neville. She was the niece of Edward IV and Richard III, and cousin of Elizabeth of York, Henry VII's consort. Her brother, Edward, Earl of Warwick, was executed by Henry VII in 1499 in response to a request forwarded by the Spanish monarchs during the marital negotiations between Arthur, Prince of Wales, and Katherine of Aragon, since they feared that Warwick's presence would encourage rebellion against the Tudor dynasty.
Perhaps in 1487, when she was fourteen, Margaret married Sir Richard Pole, a disparaging marital alliance from her perspective in view of her royal blood. Richard was later made an esquire of the body, chamberlain of North Wales, chamberlain of Chester and a member of the council in the Welsh Marches. In 1493, he was appointed chamberlain to the king's son, Arthur, whose household was established at Ludlow that year. In 1499, he was elected to the Order of the Garter and participated at the proxy wedding of Arthur to Katherine. In 1504, Richard died, and Margaret was granted a generous loan to ensure that her husband's funeral would be appropriately honourable. When not at court, she seems to have resided primarily at Warblington Castle and Bisham Manor. With Richard, she had five children: Henry, Arthur, Reginald, Geoffrey and Ursula.
In 1501, Margaret briefly served in the household of Katherine of Aragon, an appointment that enabled her to develop a close friendship with the Spanish princess. After her husband's death, however, Margaret's financial situation gave her cause for concern, since her jointure provided her with an insufficient income. As a result, she decided to entrust her son Reginald to the church. Henry VIII's accession in 1509 improved Margaret's fortunes, for she was appointed as an attendant to Queen Katherine of Aragon and, three years later, was restored to the earldom of Salisbury and the lands that had been held by her brother at the time of his execution. As countess, Margaret held estates in seventeen counties, mainly in the south and midlands, as well as lands in Wales and Calais. The countess was chiefly occupied with her role as patron of humanist scholars, as well as in her activities as a landlord. Margaret also concerned herself with the upbringing of her children. In 1514, her son Arthur accompanied the king's sister Mary to France for her marriage to Louis XII; Arthur was later made an esquire of the body and a gentleman of the privy chamber. In 1518, Margaret's only daughter, Ursula, made a respectable marriage to Henry Stafford, son and heir of the executed Duke of Buckingham.
However, at about this time several of Margaret's lands were repossessed by the crown, an act that Margaret did not take kindly to. Although she was appointed governess to Princess Mary in 1520, she was deprived of her office the following year after her sons came under suspicion for involvement in the Duke of Buckingham's treasonous activity. She was restored to the position of governess in 1525.
Margaret responded negatively to Henry VIII's decision to annul his marriage to Katherine, and in 1533 refused to surrender Mary's jewels and plate. Reginald Pole's hostility to the king, moreover, further complicated Margaret's life. Although she openly admonished Reginald in a letter that was probably intended to be seen by the king's council, it did not greatly improve her situation. The circumstances worsened in 1538 when her third son, Geoffrey, was arrested on the grounds of communicating with Reginald, viewed by the king as a traitor. Margaret and her family were implicated, and at the end of that year, the countess was interrogated by the Earl of Southampton and the Bishop of Ely. She firmly denied that she had been involved in any treasonous activity. Despite her calm demeanour and denial of treason, the countess was later incarcerated in the Tower of London, having been attainted on the grounds of aiding and abetting her sons Henry and Reginald. In January 1539, Henry Pole and the Marquess of Exeter were executed. On 27 May 1541, the countess herself was beheaded, perhaps in response to her alleged involvement in the suspected association between Thomas Wyatt and John Wallop with Reginald Pole. The king also seems to have desired the Tower to have been emptied of its prisoners before he set out on his royal progress to the north of England. After hearing of her death, Reginald commented that he was proud to be the son of a martyr.
The countess was buried in the chapel of St Peter ad Vincula, and in 1886 she was beatified by Pope Leo XIII.
Written by Conor Byrne, author of Katherine Howard: A New History and Queenship in England: 1308–1485 Gender and Power in the Late Middle Ages. Conor is a British graduate with a degree in History from the University of Exeter. Conor has been fascinated by the Tudors, medieval and early modern history from the age of eleven, particularly the lives of European kings and queens. His research into Katherine Howard, fifth consort of Henry VIII of England, began in 2011-12, and his first extended essay on her, related to the subject of her downfall in 1541-2, was written for an Oxford University competition. Since then Conor has embarked on a full-length study of queen Katharine's career, encompassing original research and drawing on extended reading into sixteenth-century gender, sexuality and honour. Some of the conclusions reached are controversial and likely to spark considerable debate, but Conor hopes for a thorough reassessment of Katherine Howard's life. Conor runs a historical blog which explores a diverse range of historical topics and issues. He is also interested in modern European, Russian, and African history, and, more broadly, researches the lives of medieval queens, including current research into the defamed 'she-wolf' bride of Edward II, Isabella of France.
Conor is currently studying for a Masters.