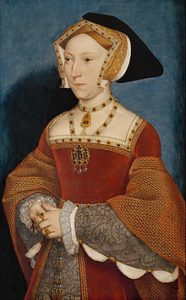 Jane Seymour was the eldest daughter of Sir John Seymour and his wife, Margery. She was probably born in around 1509 at Wulfhall in Wiltshire. By virtue of her mother, Jane could claim descent from Edward III, and her father's family were descended from Guy de St Maur, who allegedly accompanied William the Conqueror to England in the eleventh century. Unlike Anne Boleyn, nothing is known of Jane's childhood and adolescence. An unsubstantiated nineteenth-century tradition claimed that she resided at the French court as a maid of honour, but no contemporary evidence supports the notion. It is likely that Jane was educated in line with the expectations of the sixteenth-century gentry. Her needlework and embroidery were praised during her tenure as queen, and it is also plausible that she received music and dancing lessons, although there is nothing to suggest that she was praised at court for any particular skill in those pursuits. Her family were entirely traditional in their religious sympathies: it was only during the last years of Henry VIII's reign that her brother Edward espoused the cause of radical reform.
At an unknown date, Jane was appointed a maiden in the household of Katherine of Aragon. It has been suggested that her family betrothed her to William Dormer, but there is little evidence in support of that claim. Traditionally Jane has been identified as sympathetic to Katherine and her daughter Mary, but it is possible that this claim has been somewhat overstated. Very little evidence survives of Jane's residence at court before her affair with the king became publicly known in early 1536. It is impossible to accurately date the beginning of her relationship with Henry VIII; whether she was the unnamed woman linked with the king in the autumn of 1534 has never been resolved, but the length of her residence at court seems to indicate that Henry's interest in her was not love at first sight.
While John Russell praised Jane as the 'fairest' of Henry's wives, perhaps referring to her temperament, and Polydore Vergil commented that she was 'a woman of the utmost charm in both character and appearance,' it is possible that they were reflecting the official line. The imperial ambassador Chapuys was more critical of Jane's character and appearance. Doubting that, at twenty-seven, she was truly a virgin, Chapuys noted that Jane was 'no great beauty', and drew attention to her pale complexion and medium height. He also admitted that she was both proud and haughty, and noted that Henry would not struggle to find a reason to end the marriage if he needed to.
The nature of her involvement – if any – in Anne Boleyn's downfall remains a contentious issue, but at the very least her conservative religious tastes were diametrically opposed to Anne's interest in evangelical reform. In agreeing to her betrothal a day after Anne's execution, and wedding merely ten days after that, Jane probably had very little choice in the matter, and it seems unfair to criticise her when several of the king's consorts, including Anne herself as well as Katherine Howard, were willing to marry the king shortly after their predecessor's displacement. Soon after her marriage to the king on 30 May 1536, it was reported that Jane was an enemy of the gospel and a friend to true religion, i.e. Catholicism. Unlike her predecessors, Jane was not crowned queen after her wedding, officially because of an outbreak of plague. Undoubtedly, had she lived after giving birth to her son, she would have been rewarded with a coronation.
Like the Boleyns, the Howards and the Parrs, the Seymours benefited politically and financially from Jane's marriage to the king. Her brother Edward was made Viscount Beauchamp in 1536 and Earl of Hertford the following year. Another brother, Thomas, was appointed a gentleman of the privy chamber and was knighted in 1537. Occasionally identified as a peacemaker, Jane promoted reconciliation between her husband and her eldest stepdaughter Mary, but the extent of her influence remains open to question and should not be overstated. It is worth noting that it was only after Mary submitted to her father's demands that Jane extended the hand of friendship towards her. No evidence survives of an interest in her younger stepdaughter Elizabeth.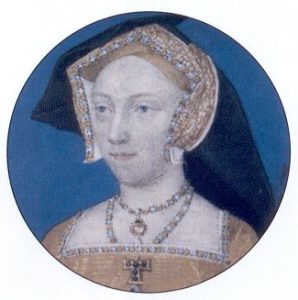 Scarcely any evidence survives of her queenship. An unsubstantiated tradition claims that the queen interceded with her husband on behalf of the monasteries; in response, he warned her of the fate of her predecessor, who had been too politically active for his liking. Like the king's other wives, Jane featured in the ceremonies at court. In the spring of 1537, she learned that she was pregnant, and the quickening of her child occurred that May. In the autumn, at Hampton Court, the queen withdrew to her chambers in readiness for the anticipated birth. A son, Edward, was born on 12 October amidst great rejoicings throughout the kingdom. Tragically for the king, Jane died twelve days later, perhaps from puerperal fever. She was buried at St George's Chapel, Windsor; her husband was later buried beside her.
The official line promoted by the government was highly positive about Jane, identifying her as virtuous, gentle, modest and fair. Whether that assessment was accurate is open to question. Certainly, Chapuys was initially unfavourable about her, although he later wrote of her with warmth and admiration. Her exact involvement in Anne Boleyn's downfall remains unknown, while scarcely any evidence survives concerning her personal interests or religious opinions.
Written by Conor Byrne, author of Katherine Howard: A New History and Queenship in England: 1308–1485 Gender and Power in the Late Middle Ages. Conor is a British graduate with a degree in History from the University of Exeter. Conor has been fascinated by the Tudors, medieval and early modern history from the age of eleven, particularly the lives of European kings and queens. His research into Katherine Howard, fifth consort of Henry VIII of England, began in 2011-12, and his first extended essay on her, related to the subject of her downfall in 1541-2, was written for an Oxford University competition. Since then Conor has embarked on a full-length study of queen Katharine's career, encompassing original research and drawing on extended reading into sixteenth-century gender, sexuality and honour. Some of the conclusions reached are controversial and likely to spark considerable debate, but Conor hopes for a thorough reassessment of Katherine Howard's life. Conor runs a historical blog which explores a diverse range of historical topics and issues. He is also interested in modern European, Russian, and African history, and, more broadly, researches the lives of medieval queens, including current research into the defamed 'she-wolf' bride of Edward II, Isabella of France.
Conor is currently studying for a Masters.