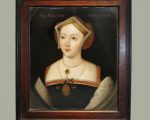 Ann Henning Jocelyn, writer and director of "The Sphere of Light: The Anne Boleyn saga as never told before" has asked me to share this information about the play. If you can get to Cambridge in the UK then do go and see it and then let us know what it was like.
Here are the details:
To be presented as a rehearsed reading at the Howard Theatre, Downing College, Cambridge, on July 1st, 2017, at 4 PM and 8 PM.
Tickets at £12/10 from www.adcticketing.com Tel: 01223 300 085.
[Read More...]