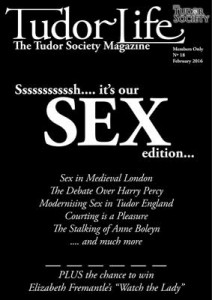 It's our sex edition
We're not afraid of tackling the difficult (fun?) topics here in the Tudor Society, and so we've put together an edition of Tudor Life magazine, looking at Sex in the Tudor period. We have articles including "The Debate over Harry Percy", "Sex and Love in the Medieval Era" and "How to achieve amorous desires through Dance" plus more.
Exclusive give-away
There is also an exclusive give-away of "Watch the Lady" by Elizabeth Fremantle which is due for publication in the UK in February (members from all around the world are free to enter!).
SIMPLY comment below this article to be in with a chance to win a copy of Elizabeth's book.
To whet your appetite there is also an excerpt from the book in the magazine. It's gripping stuff from a really wonderful author.
This issue includes:
His dear bedfellow: the debate over Harry Percy - Gareth Russell
Sex and love in the Medieval era - Toni Mount
Modernising sex in Tudor England - Conor Byrne
Kenilworth Castle - Andy Crossley
Courting is a pleasure - Jane Moulder
MS King's 9: Book of Hours - Melanie V. Taylor
EXCLUSIVE:Watch the Lady - Elizabeth Fremantle
Elizabeth of York's representation as a wife, mother and queen - Lauren Browne
The stalking of Anne Boleyn - Kyra Kramer
The King is Dead - book review by Charlie Fenton
The Tudor kitchen - Olga Hughes
Feast Days - Claire Ridgway
High Quality Download (49Mb)
Smaller Download (4.7Mb)