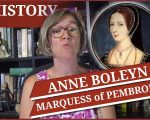 On this day in Tudor history, 1st September 1532, in a special ceremony at Windsor Castle, King Henry VIII elevated his sweetheart Anne Boleyn to the peerage by making her Marquess of Pembroke.
This was a hugely significant act because Henry VIII made Anne a marquess in her own right, granted the title to her and her heirs male (legitimate or not) and gave her a title associated with his father, Henry VII, and uncle, Jasper Tudor. It also made her a rather wealthy woman, and a fitting consort for their trip to Calais to meet with King Francis I of France.
Find out more about what happened on this day in 1532, who was there, and just what Anne Boleyn was given by King Henry VIII, in today's talk.
[Read More...]