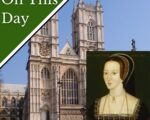 On this day in Tudor history, 1st June 1533, Whitsunday, Henry VIII's second wife, Anne Boleyn, was crowned queen at Westminster Abbey.
You can find out more about Anne Boleyn's coronation in the video below, but here are a few facts:
Anne was 6 months pregnant.
She wore ermine-trimmed purple velvet coronation robes.
Her train was carried by her step-grandmother, the Dowager Duchess of Norfolk.
[Read More...]