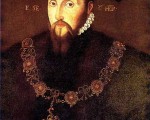 The fifth article in Sarah Bryson's series on prominent Tudor courtiers…
Edward Seymour, Duke of Somerset is one of the most well-known of Henry VIII's courtiers. Although the duke was most influential under the reign of his nephew, King Edward VI, it was during the reign of Henry VIII that Seymour started his ascent at the Tudor court.
The exact date of Edward's birth has not been recorded, but it is believed that he was born around 1500 at the family's home of Wolf Hall, Wiltshire, to Sir John Seymour and Margery Wentworth. John and Margery had ten children: six sons (John, Edward, Henry, Thomas, John and Anthony) and four daughters (Jane, Elizabeth, Margery and Dorothy). Edward Seymour was descended from the ancient family lines of the Percys and Cliffords, and his father served both King Henry VII and King Henry VIII as Sheriff of Wiltshire and Sheriff of Somerset and Dorset, cementing the family's loyalty to the Tudors.
[Read More...]