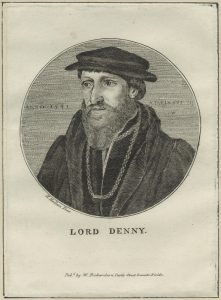 Sir Anthony Denny was born in Cheshunt on 16th January 1501. He was the second son of Sir Edmund Denny and his second wife, Mary Troutbeck. Edmund was a Hertfordshire landowner who went on to become Baron of the Exchequer in the early years of Henry VIII's reign.
Anthony Denny educated at St Paul's School in London and then at St John's College, Cambridge. Among his contemporaries at St Paul's were John Leland, William Paget and Thomas Wriothesley. Although he attended St John's, there is no record of his graduation.
Denny's early public career began in the service of Sir Francis Bryan who was a favourite of King Henry VIII. Denny assisted Bryan on diplomatic missions to France. In the 1520s, he served the king in the royal household.
On 28th May 1536, he was recorded as being a member of the privy chamber and come 9th September of the same year Denny was recorded as being a groom. He was also a Yeoman of the wardrobe and Keeper of Westminster Palace. Come 1539 Denny was a gentleman of the privy chamber, where he replaced Bryan as the second chief gentleman and deputy groom of the stool.
By 1540, Denny had become close to Henry VIII and he was one of the courtiers Henry the king confided in regarding his desire to get out of his marriage to Anne of Cleves. In 1544, Denny accompanied the king on his campaign in Boulogne, where he was also knighted on September 30th. On 20th September 1545, Denny, along with John Gates and William Clerk, was given licence to affix the royal stamp (a dry stamp of the king's signature) onto all documents. This was evidence of the king's trust and Denny's authority and influence.
In October 1546, Thomas Heneage retired from the king's service and Denny replaced him as first chief gentleman and groom of the stool. During the last few months of Henry VIII's reign, Denny supported religious reformation, as did his wife, Joan (Champernon), who he had married in 1538. Together the couple had 5 sons and 4 daughters. Lady Denny was heavily involved in the court just like her husband; she gained positions within the households of both Anne of Cleves and Katherine Parr. However, in the summer of 1546 Lady Denny was one of the court protestants linked to Anne Askew, who was executed for heresy. Anne was a distant relative of Lady Denny's uncle, and the religious conservatives at court sought to implicate Lady Denny but Anne Askew stated that Lady Denny's involvement consisted only of her servant bringing her money. Lady Denny survived, as did her husband, who was becoming close to the Seymour faction at this time.
When it was clear that King Henry VIII was dying, it was Denny who advised him to 'prepare himself for death... and to call upon God... for grace and mercy'. Denny was an executor of the king's will, and after his funeral, he was recognised as being 'the most intimate of Henry VIII's council and chamber'. Even after Henry's death, Denny remained influential at court, proceeding to stay in favour in Edward VI's reign and being named a privy councillor in January 1547. Later in the year, Denny was chosen to remain with the king in London during the Scottish campaign in place of the Lord Protector, Edward Seymour.
In July 1549, Denny was involved in putting down Kett's rebellion in East Anglia but was then taken ill and died in Cheshunt on September 10th. He was buried at St Mary's Church, Cheshunt. His Hertfordshire lands covered over 20,000 acres making up to £700, while his office income came to at least £200. His nine children and one illegitimate son were well-provided for. He instructed his wife to bring up their children so 'the commonwealth may find them profitable members and not burdens as idle drones be to the hive'. His grandson by his eldest son, Henry, was Edward Denny who became the first Earl of Norwich and who served Elizabeth I as a privy chamberer.
Written by Charlotte Donovan.
Charlotte Donovan is a 23-year-old, recent BA Hons History Graduate from the University of Hull. Her favourite time period in History is the Tudor period and she has a huge love/interest for Anne Boleyn, Henry VIII and the people of the Tudor court. Charlotte is a writer who is currently halfway through writing her first book. She lives in Hartlepool with her partner where she works at the local college as a Learning Support Assistant, she loves to read/write and also watch TV dramatisations and documentaries of her favourite time periods within history. Charlotte is also a blogger for her own site With love, Charlotte x.
Sources used
Picture: Engraving of Sir Anthony Denny, Lord Denny, National Portrait Gallery.