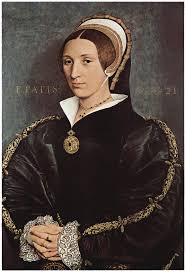 Elizabeth Seymour was a younger daughter of Sir John Seymour and his wife, Margery Wentworth. Her date of birth is unknown but is estimated to have been between 1511 and 1518. She married her first husband, Sir Anthony Ughtred, in January 1531; since sixteenth-century women could marry, at the earliest, at the age of twelve, realistically Elizabeth could have been born no later than January 1519. Such an early marriage, however, would have been extraordinary, since the Seymours were a respected gentry family, but they were not nobility. Historians have noted that Tudor noble- and gentlewomen tended to marry by the age of twenty. It is possible that Elizabeth served alongside her sister Jane in the household of Anne Boleyn, Henry VIII's second wife, who became queen in 1533. Usually, the queen's maidens were aged in their mid-to-late teens, although Jane herself would have unusually been around twenty-four years old when appointed to Anne's household. For Elizabeth to have married Ughtred in 1531 and to have served the queen two or three years later would indicate that she was probably born no later than c. 1515.
Elizabeth's father was a respected sheriff, commissioner and Justice of the Peace in the southwest of England. He had been knighted by Henry VII for his services in 1497 against the Cornish rebels at Blackheath. The family were based at Wolf Hall in Wiltshire. Seymour also attended the sieges of Thérouanne and Tournai in 1513, both of which were conquered by the English army. His wife Margery was highly fertile: in the space of twenty-five years, she gave birth to at least ten children, six of whom lived to adulthood. Like her sisters, Elizabeth was probably provided with a conventional sixteenth-century education at Wolf Hall; she would have learned needlework, estate management, and perhaps would have received lessons in music and dancing. She would also have learned to read and write. Several of her letters to Thomas Cromwell and Henry VIII survive. The Seymour family was undoubtedly ambitious and Elizabeth, like her siblings, resided at court after she had completed her education. In 1531, as noted, she married the Yorkshire administrator and soldier Sir Anthony Ughtred. It is unclear why Elizabeth was married before her elder sister Jane's marriage was finalised. Usually, daughters were married according to seniority, although this could be ignored according to family circumstances. After they were wed, the couple received the grant in survivorship of the manors of Lepington and Kexby in Yorkshire. Like her father, Elizabeth's husband had accompanied Henry VIII to France in 1513. Subsequently, he served as captain of Berwick and captain and governor of Jersey. It has been speculated that he owed his appointment to the governorship of Jersey to the patronage of the Boleyn family. Anthony died on 6 October 1534 in Jersey, and Elizabeth was left a widow with two young children, probably having not yet reached her twentieth birthday. Henry had been born in about 1533 and Margery, born in about 1535.
The Seymour family's fortunes changed forever when Henry VIII pursued Elizabeth's sister Jane, firstly as his mistress and secondly as his prospective wife. Anne Boleyn's failure to produce an heir placed her in a fatally weak position in the spring of 1536, and the restless king assented to her arrest, imprisonment and execution on dubious charges of adultery, incest and treason that arose, in part, from her insecure and reckless behaviour in April of that year. The extent to which Jane Seymour was involved in Anne's destruction has been extensively debated by historians, but regardless of the circumstances in which Jane became queen, it is clear that Elizabeth's family enjoyed newfound influence and status as the relatives of the English queen. Her brother Edward was made Viscount Beauchamp and captain/governor of Jersey (a post that had been previously held by Anthony Ughtred) and received numerous manors in Wiltshire, while Thomas Seymour was knighted and appointed a gentleman of the privy chamber. Elizabeth, however, remained a widow living on reduced means, and in March 1537 wrote to Thomas Cromwell requesting a grant of the goods of a dissolved abbey. It has been conjectured that she refrained from seeking her sister Jane's assistance on account of the queen's lack of influence with Henry VIII, while others have speculated that the Ughtreds' connections with the Boleyn family prevented Elizabeth from being immediately appointed to Jane's household. In response to Elizabeth's letter, Cromwell, no doubt delighted at the prospect of an alliance with the royal family, suggested that she marry his son Gregory, who was a few years younger than her. On 3 August 1537, the couple were married at Mortlake in Surrey. Derek Wilson noted that the marriage between Elizabeth Seymour and Gregory Cromwell meant that Thomas became 'related by marriage to the king, an event well worth recording for posterity by a portrait of his daughter-in-law.' A portrait painted by Hans Holbein that has been dated to c.1535-40, versions of which are held at the Toledo Museum of Art, the National Portrait Gallery and Hever Castle, may depict Elizabeth Cromwell at the time of her marriage: the sitter is in her twenty-first year and is lavishly dressed in expensive black costume. Traditionally the portrait was thought to be an image of Henry VIII's fifth wife Katherine Howard, but a number of historians have noted that there is no evidence for its identification as Katherine. Certainly one copy of the portrait was retained by the Cromwell family; it would have been bizarre for them to have owned an image of the woman whose marriage to the king was associated with Thomas Cromwell's execution. Alternative candidates for the portrait include Frances Grey, Duchess of Suffolk and Margaret Douglas, Countess of Lennox. If it is indeed a depiction of Elizabeth Cromwell, then it was probably painted at the time of, or soon after, her marriage.
Elizabeth and Gregory had five children together: Henry, Edward, Thomas, Katherine and Frances, four of whom survived to adulthood. They probably resided at Lewes Priory, Sussex and Leeds Castle, Kent. Two months after their wedding, Elizabeth's sister Jane gave birth to Prince Edward at Hampton Court Palace, but died twelve days as a result of complications in childbirth. Elizabeth and Gregory participated in the queen's funeral procession; she was interred at Windsor, where Henry VIII would be buried alongside her ten years later. Elizabeth and Gregory appear to have enjoyed a happy marriage; he described her as his 'loving bedfellow'. In December 1539, Gregory departed for Calais as part of the retinue sent to welcome Anne of Cleves, and Elizabeth was appointed to her household. A few months later, Thomas Cromwell was granted the earldom of Essex, but his astonishing downfall in July 1540 left Elizabeth and her husband in a precarious position. She wrote to the king protesting the loyalty of herself and her husband: 'After the bounden duty of my most humble submission unto your excellent majesty, whereas it hath pleased the same, of your mere mercy and infinite goodness, notwithstanding the heinous trespasses and most grievous offences of my father-in-law, yet so graciously to extend your benign pity towards my poor husband and me, as the extreme indigence and poverty wherewith my said father-in-law's most detestable offences hath oppressed us, is thereby right much holpen and relieved, like as I have of long time been right desirous presently as well to render most humble thanks, as also to desire continuance of the same your highness' most benign goodness.' The king responded favourably to Elizabeth's letter, and she was appointed to the household of his new queen, Katherine Howard. As a further sign of Henry VIII's favour, Gregory was created Baron Cromwell of Oakham, Rutland, and was summoned to parliament as a peer of the realm. Before long, Henry was allegedly regretting his decision to execute his loyal minister Thomas Cromwell.
After Henry VIII's death in 1547, the Seymours enjoyed unparalleled success at court. Edward Seymour was appointed Lord Protector of the Privy Council and was made Duke of Somerset, while Thomas was made Baron Seymour of Sudeley and swiftly married the king's widow Katherine Parr. Gregory Cromwell and Elizabeth's brother Henry were invested as Knights of the Order of the Bath at Edward VI's coronation. However, Thomas Seymour was executed in 1549 for treason, while Edward followed him to the scaffold in 1552. From the perspective of family fortunes, these years were difficult ones for Elizabeth. Her husband Gregory died in 1551 of the sweating sickness and was buried at Launde Abbey. After her brother Edward's execution and the imprisonment of his wife Anne, Elizabeth was entrusted with the provision and education of her nieces, but by October 1552 she had written to William Cecil because her nieces had refused to heed her advice 'in such good part as my good meaning was'. In the summer of 1553, Edward Seymour's wife was released from the Tower, and her daughters were returned to her care.
In the spring of 1554, Elizabeth married John Paulet, Baron St John. They had no children together, but Elizabeth's sons by Anthony Ughtred married the daughters of John Paulet. The couple resided at Basing House in Hampshire, where Elizabeth died on 19 March 1568. She had lived through four reigns: those of Henry VIII, Edward VI, Mary I and Elizabeth I. She was buried at St. Mary's Church, Basing. Elizabeth is a somewhat neglected member of the well-known Seymour family, but she was well educated, astute and enjoyed considerable influence and status as a result of her family's connections and her marital alliances; as a result of her marriages to Cromwell and Paulet, she was twice a baroness.
Conor Byrne studied at the universities of Exeter and York. He specialises in late medieval and early modern English history, with an emphasis on royal history, gender relations and Tudor queenship. His first book, Katherine Howard: A New History (2014) was published by MadeGlobal and has been described as 'a brilliant study', 'a new and refreshing biography of Katherine Howard' and 'a timely addition to Tudor scholarship'. Conor's second book Queenship in England (2017) was also published by MadeGlobal and provides an in-depth analysis of fourteenth- and fifteenth-century queenship. He runs an active Facebook page at www.facebook.com/ConorByrneHistorian.
Picture: Portrait of an unknown woman, c. 1535-40. Possibly Elizabeth Seymour.