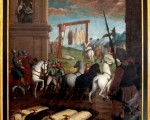 1532 – James Bainham, lawyer and Protestant martyr, was burned at Smithfield.
1536 – Scottish theologian Alexander Alesius witnessed an argument between Queen Anne Boleyn and Henry VIII, and at 11 o'clock that night, the King and Queen's upcoming visit to Calais was cancelled and arrangements made for the King to journey alone a week later. Also 30th April, court musician and member of the Boleyn circle, Mark Smeaton, was taken to Thomas Cromwell's house in Stepney and interrogated. Within twenty-four hours, he had confessed to making love three times to the Queen.
1544 – Death of Thomas Audley, Baron Audley of Walden and Lord Chancellor, at his home in Aldgate, London. Audley was Cromwell's right-hand man in 1536, during the fall of Anne Boleyn, and became even more important after Cromwell's fall.
1547 – Sir Anthony Denny was made Henry VIII's Groom of the Stool.
1563 – Death of Henry Stafford, 10th Baron Stafford, at Caus Castle, Shropshire. Stafford was the only legitimate son of Edward Stafford, 3rd Duke of Buckingham, and his wife, Eleanor, daughter of Henry Percy, 4th Earl of Northumberland.
1595 – Death of Thomas Bedwell, mathematician, engineer and keeper of the ordnance store at the Tower of London. He was buried at the Tower, in the Chapel of St Peter ad Vincula. Bedwell's engineering projects included him supervising the building of Dover harbour, giving advice on the fortification of Portsmouth and working on the River Thames' defences at Tilbury and Gravesend in 1588, at the time of the Spanish Armada.
1596 – Death of Sir John Puckering, administrator and Speaker of the House of Commons, from apoplexy. Puckering's other offices included Serjeant-at-Law, Recorder of Warwick, Privy Councillor and Lord Keeper of the Great Seal. In 1587, he was involved in the trial of Elizabeth I's secretary William Davison, appearing for the Crown. He was buried at Westminster Abbey, in St Paul's Chapel.
1596 – Death of Thomas Bickley, Bishop of Chichester, at the bishop's palace in Aldingbourne. He was buried in his cathedral.
[Read More...]