25 December
Christmas Day - Happy Christmas!
1549 – Death of Stephen Vaughan, merchant, merchant adventurer, diplomat and administrator, in London. He was buried at London's St Mary-le-Bow. Vaughan served Sir Thomas Cromwell as a diplomat between 1524 and 1539, and moved into Henry VIII's service on Cromwell's fall. He acted as the King's Chief Financial Agent in the Netherlands from 1544 to 1546, and became Under-Treasurer of the Tower of London Mint in 1544.
1553 – Birth of Thomas Thomas, Puritan printer and lexicographer, in London. He became the printer of Cambridge University in 1583, and concentrated on printing Protestant theology and education works. He is known for his Latin dictionary.
1569 (25th or 26th) – Killing of Sir John Borthwick, soldier, diplomat and Protestant, near Bewcastle in Cumberland. He was killed by the Forster family as he was fighting on the side of James Stewart, 1st Earl of Moray and the Regent, against Mary, Queen of Scots's forces. Borthwick had served Edward VI as a diplomat, Elizabeth I as a military commander and Mary, Queen of Scots as a diplomat.
1587 – Death of Brian Darcy, magistrate, Sheriff of Essex, witch-hunter and contributor to the 1582 "A true and just recorde of the information, examination and confession of all the witches, taken at S. Oses". "A True and Just Recorde" argued for harsher punishments for those found guilty of witchcraft.
1634 – Death of Lettice Blount (née Knollys, other married names: Devereux and Dudley) at the age of ninety-one. Lettice died at her home at Drayton Bassett and was buried beside her second husband, Sir Robert Dudley, Earl of Leicester, in the Beauchamp Chapel of St Mary's Church, Warwick.
1596 – Death of Sir Henry Curwen, member of Parliament, Justice of the Peace and Sheriff. He served Edward VI, Mary I and Elizabeth I loyally.
26 December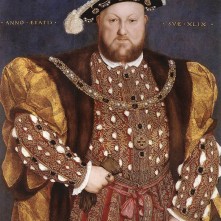 1526 – Birth of Rose Throckmorton (née Lok, other married name: Hickman), Protestant and businesswoman, in London. She was the third child of Sir William Lok, a mercer who had also served Henry VIII as a gentleman usher. Rose was married twice: to merchant Anthony Hickman and to Simon Throckmorton of Brampton.
1545 – Death of Sir George Bowes, soldier, rebel and Captain of Norham Castle. He was buried at Alnwick. Bowes was a member of the rebel army during the 1536 Pilgrimage of Grace, but the patronage of his uncle, Sir Robert Bowes, protected him. He fought in the 1542 Anglo-Scottish War and in the 1544 expedition. He was granted the Barony of Coldingham as a reward for seizing Coldingham Priory on November 1544, but was then taken prisoner in January 1545 and lost the barony.
1546 - Henry VIII made some changes to his will, a document which had been prepared two years earlier. These changes were made to ensure successful transfer of royal authority to his son, the future Edward VI, and to prepare for Edward reigning during his minority.
27 December
]1539 - Anne of Cleves landed at Deal in Kent. Anne was to be Henry VIII's fourth wife and their marriage was agreed upon by a treaty in September 1539.
1583 – Death of Katherine Killigrew (née Cooke), scholar and puritan, after giving birth to a stillborn child. She was buried at St Thomas the Apostle Church in London. Katherine was the daughter of scholar and royal tutor Sir Anthony Cooke, and the wife of diplomat Sir Henry Killigrew. She was known for her ability at writing poetry and her knowledge of languages, including Hebrew, Latin and Greek.
1530 – Death of Thomas Lupset, clergyman and humanist scholar, at Bisham from tuberculosis. He was buried in St Alfege Church, Cripplegate. Lupset joined the household of John Colet in his youth and was taught by William Lilye before attending Pembroke Hall, Cambridge, where he worked with Erasmus on the "New Testament". Lupset tutored Cardinal Wolsey's son, Thomas Wynter, and was friends with Thomas More, Reginald Pole and John Leland. His works included "Exhortacion to Young Men", "A Treatise of Charitie" and "Dieyng Well".
1603 – Death of Thomas Cartwright, theologian, Puritan and Master of the Earl of Leicester's Hospital in Warwick. He spent his last days in Warwick and was buried there. Cartwright is known for the struggle between him and John Whitgift, the man who deprived Cartwright of his position as Lady Margaret's Professor of Divinity at Cambridge. Cartwright supported the attack on the Elizabethan church in the form of "An Admonition to the Parliament" by preachers John Field and Thomas Wilcox. Whitgift answered with "Answere to a Certan Libel Intituled, 'An Admonition'", Cartwright replied with "Replye", Whitgift answered again with "The Defense of the Aunswere to the 'Admonition', Against the 'Replie'" and Cartwright responded with "The Second Replie" and "The Rest of the Second Replie".
1615 – Death of John Fenn, Roman Catholic priest and translator. He was buried in the cloister of St Monica's English Augustinian monastery in Louvain, where he was chaplain. Fenn had settled in Louvain while in exile during Elizabeth I's reign. His works included an English translation of Bishop Osorius's treatise against Walter Haddon: "A Learned and Very Eloquent Treatie, Written in Latin", translations of works by John Fisher, Bishop of Rochester, and the Council of Trent's catechism, and Concertatio ecclesiae catholicae in Anglia, which he co-edited with John Gibbons, a Jesuit.
28 December
1510 – Birth of Sir Nicholas Bacon, lawyer, administrator and Lord Keeper of the Great Seal in Elizabeth I's reign. He was the second son of Robert Bacon, yeoman and sheep-reeve (chief shepherd), and his wife Isabel Cage, and he was the father of the famous philosopher, statesman, scientist and author, Sir Francis Bacon.
1572 – Death of John Hales, member of Parliament, writer and administrator. He was buried in St Peter-le-Poer Church, Broad Street, London. Hales served as Clerk of the Hanaper, a Justice of the Peace and member of Parliament.
1582 – Burial of goldsmith John Mabb at St Matthew Church, Friday Street, off Cheapside in London. Mabb was also Chamberlain of the City of London.
1603 – Death of John Joscelin (Joscelyn), clergyman, antiquary and Old English scholar, at High Roding. He was buried at All Saints' Church, High Roding. Joscelin was Latin secretary to Matthew Parker, Archbishop of Canterbury, and is known for his Old English-Latin dictionary and the work he did for Parker in discovering and publishing lost manuscripts.
29 December
1494 – Death of William Selling (Celling), Prior of Christ Church, Canterbury, diplomat and humanist scholar. He was buried at Canterbury Cathedral, in the martyrium of Thomas Becket.
1605 – Burial of George Clifford, 3rd Earl of Cumberland, courtier, naval commander and Elizabeth I's champion, at Holy Trinity Church, Skipton, Yorkshire.
1605 – Death of Arthur Hall, member of Parliament, courtier and translator. He was buried at Grantham in Lincolnshire. Hall is known for his 1581 "Ten Books of Homer's Iliades, translated out of French", the first English translation of Homer's Iliad. Hall was imprisoned at various times on account of debt and works he published, which were either libellous or offensive. He may even have been in prison for debt at his death.
1605 (29th or 30th) – Death of John Davis (Davys), navigator and explorer, near Bintang, off the coast of Borneo. His ship, The Tiger, was attacked by Japanese pirates who killed Davis in hand-to-hand combat. Davis was one of the main Elizabethan navigators and explorers, and the Davis Strait in the Northwest Passage is named after him. He is also known for being the first Englishman to document a sighting of the Falkland Islands. Davis also wrote the 1594 "The Seaman's Secrets" and "The World's Hydrographical Description" (1595).
30 December
1494 – Death of John Russell, Bishop of Lincoln, Keeper of the Privy Seal, Lord Chancellor under Edward IV and Richard III, and Chancellor of Oxford University. He died at his episcopal manor in Nettleham, Lincolnshire, and was buried in Lincoln Cathedral.
1546 – Henry VIII signed his last will and testament, authorising the changes which he had ordered to be made by William Paget on 26th December. Click here to read more.
1552 – Death of Francisco de Enzinas (humanist name Francis Dryander), Spanish humanist scholar, translator, author and Protestant apologist, at Strasbourg from the plague. He was buried there the next day. He had been a member of the household of Katherine Brandon, Duchess of Suffolk, for a time, possibly teaching her son Charles, and Archbishop Cranmer paid him as a Greek Reader. While he was at Cambridge, in the late 1540s, Enzinas translated various ancient texts into Spanish before travelling to the Continent in 1549 to set up a publishing house in Strasbourg. There, he published at least nine classical and Biblical translations.
1553 – Death of Roger Barlow, Vice-Admiral of the Pembrokeshire coast and brother of William Barlow, Bishop of Chichester, at Slebech.
1568 - Scholar and royal tutor, Roger Ascham, died after being taken ill on 23rd December. He was buried on 4th January 1569 on the north side of St Sepulchre without Newgate, London, in the St Stephen's chapel.
1594 – Death of Sir Thomas Scott, member of Parliament and deputy lieutenant of Kent. He was buried at Brabourne Church in Kent, but moved to the chapel of Scot's Hall, the family home in Smeeth, after the Civil War. Scott was also a Justice of the Peace, Commissioner of Piracy, Commissioner of Coastal Defence, Commissioner of Grain and Colonel-General of his county's forces during the Spanish Armada. He was also a keen horse breeder.
1600 – Death of Michael Heneage, member of Parliament, devout Protestant, archivist and antiquary, at Hoxton in Essex. He and his brother Thomas served as Joint Keepers of the Records in the Tower of London from 1576, and he also helped Robert Hare, Compiler of Cambridge University's records. Heneage delivered two papers, "of the Antiquity of Arms in England" and "of Sterling Money", while he was a member of the Society of Antiquaries, and he also compiled "Collections out of various Charters, &c., relating to the Noble Families in England".
31 December
1535 – Death of Sir William Skeffington, known as "the Gunner", Lord Deputy of Ireland, at Kilmainham in Dublin. He was buried at St Patrick's Cathedral in the city. His nickname, "the Gunner", came from his use of heavy artillery while taking Maynooth Castle in County Kildare. He killed, or had executed, the whole garrison there.
1559 – Death of Owen Oglethorpe, Bishop of Carlisle, while under house arrest in London. He was buried at St Dunstan-in-the-West. He had been deprived of his bishopric due to his Catholic faith, and had angered Elizabeth I by elevating the host on Christmas Day 1558.
1564 – Death of Edward North, 1st Baron North, administrator, at the London Charterhouse, which he had acquired in 1545. North served Henry VIII as Treasurer of the Court of Augmentations, Chancellor of the reformed Court of Augmentations and executor of his will. In Edward VI's reign, he was a Privy Councillor but lost this position in Mary I's reign. His Charterhouse was used as lodgings for Elizabeth I and her court for a few days following her accession, and she appointed him Lord Lieutenant of Cambridgeshire. North was buried at Kirtling, in the family vault.
1600 – The East India Company, or "Company of Merchants of London trading into the East Indies", was chartered, i.e. given royal approval, by Queen Elizabeth I.