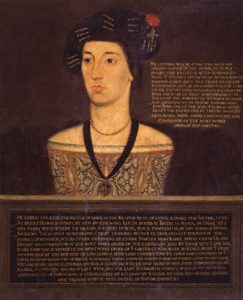 Sir Anthony Browne was born in c.1500 and was the son of Sir Anthony Browne and his wife Lucy. Browne's father was a member of the Browne family of Betchworth, in Surrey, and his mother was a widow of Sir Thomas Fitzwilliam of Aldwark, Yorkshire. She was also the daughter and coheir of John Neville, 1st Marquess of Montagu and son of Richard Neville, 5th Earl of Salisbury. Browne's great uncle was Richard Neville, Earl of Warwick, the famous "Kingmaker". From his mother's first marriage, Browne had a half-brother, William Fitzwilliam, 1st Earl of Southampton, whose later career resembled his in many ways.
Browne's father, Sir Anthony, was Henry VII's standard-bearer and lieutenant of Calais Castle. His importance to Henry VII meant that Browne no doubt grew up in the household of the future King Henry VIII just like his half-brother Fitzwilliam. However powerless Browne may have been compared to the king's other ministers he still managed to sustain a friendship with the young King Henry. Browne's record of service officially started when he turned eighteen, in the year 1518, and it was around this time that he was part of an embassy sent to attend the delivery of Tournai to Francis I. In the same year, Browne was appointed surveyor and master of hunting for the castles and lordships of Hatfield, Conisbrough and Thorne in Yorkshire. By October 1519, Browne was serving Henry VIII as a gentleman of the privy chamber, and in 1520 he attended the Field of the Cloth of Gold meeting between Francis I and Henry VIII, taking part in a tournament there. In 1522 he was knighted by the Earl of Surrey for his part in the attack on Morlaix and the king made him a knight of the body. Three years later, he was made lieutenant of the Isle of Man.
The start of 1527 saw Browne being appointed as an ambassador in France; he wrote home regularly to report on the activities going on in the country. He showed a huge amount of antipathy throughout his time in France, and this was something that happened to grow over time while he continued to live there. He particularly grew tired of the French way of living, the way they hunted and that nothing there seemed worth buying. In 1528, however, Browne married his wife, Alice, daughter of Sir John Gage. The couple had around ten children; seven boys and three girls.
Browne was one of those chosen to attend the meeting between Henry VIII and Francis I in autumn 1532, regarding the king's wish to divorce Catherine of Aragon. Despite Browne's dislike of everything French, the French king must have found his service somewhat useful for in 1533 he was placed with Norfolk's embassy in France.
Although he was a religious conservative, Browne supported the king in his quest for an annulment and during the break with Rome, but come 1536 it would appear his allegiance to this Reformation had changed and he, along with his half-brother Fitzwilliam, helped Cromwell engineer Queen Anne Boleyn's downfall. For it was Browne's own sister, Elizabeth, Countess of Worcester, who was said to have been the first person to have raised suspicions regarding Queen Anne and her behaviour with her musician and brother. In late 1536, he displayed his loyalty to the king by being one of those who put down the Pilgrimage of Grace rebellion.
Come 1538, Edmund Bonner was praising Browne and his efforts on embassy in France, mentioning his 'discretion', while Thomas Cromwell was criticising him, calling him 'a vain old beau'. That same year, Bonner and Browne complained a fair amount to the king and Cromwell regarding the treatment they received from the French and the standard of their lodgings there. Henry VIII was upset at the way the French were treating his ambassadors, taking it as a personal insult and calling on Browne to withdraw. Francis I was obviously offended by this, but Henry still supported Browne and Bonner.
In 1539, Henry appointed Browne as a privy councillor, master of the horse and captain of the gentlemen pensioners. Browne's problems with Cromwell led to Browne being implicated in an alleged plot with his half-brother Fitzwilliam and Sir William Kingston to replace Cromwell with Bishop Cuthbert Tunstall. It is not clear whether this was just a rumour, but Cromwell had no objection to Browne's election as knight of the shire for Surrey in 1539.
In 1540, Browne was once again shown royal favour when he was selected by the king to go and meet Anne of Cleves at Rochester in 1540. As the king's master of horse, he entered Anne's chamber ahead of the king. This proved helpful for the king when he decided that he wanted the marriage to Anne annulled, since Browne could testify that Henry truly was unhappy with the future queen's appearance from the minute they first met.
Browne was made a Knight of the Garter in April 1540, and was also granted Battle Abbey. He and Fitzwilliam appear to have allied themselves with the Duke of Norfolk by Cromwell's fall in the summer of 1540, although they were distant enough from the duke to avoid being implicated in Catherine Howard's fall of 1541 and 1542.
By 1542, Browne's first wife, Alice, had died, and on 12th December 1542, he married fifteen-year-old Elizabeth Fitzgerald, daughter of Gerald Fitzgerald, 9th Earl of Kildare, and Lady Elizabeth Grey. The couple had two children who both died young.
Come 1542, Browne's reputation had caused him to be referred to by Charles de Marillac, the French ambassador, as France's 'worst enemy' and Eustace Chapuys, the imperial ambassador, was keen for Emperor Charles V to offer Browne a pension. In 1543, Browne was appointed master of the king's harrier, and it is thought that he supported Bishop Stephen Gardiner's plot, the prebendaries' plot, to bring down Archbishop Thomas Cranmer. Browne went on to see more military, serving in the Boulogne campaign of 1544, leading 300 horses and 500 men on foot. He went on to serve under Edward Seymour, Earl of Hertford, from 1545-6, defending the English coast.
In January 1547, Browne was the one to inform King Henry VIII that death was close at hand. The king left him £300 in his will, made him an executor of his will, and chose him as guardian of Edward, the king's only son, and Elizabeth, the king's daughter by Anne Boleyn. Along with the Earl of Hertford, Browne informed Edward and Elizabeth of their father's death, and when Edward processed from the Tower of London to Westminster Palace, it was Browne who rode at his side. By
Browne died on 6th May 1548 at Byfleet, in Surrey. He owned 11,000 acres of land in Sussex worth a total of £679 yearly as well as 8,500 acres of land in Surrey which were worth half the amount of the land in Sussex. He was able to leave his second wife and children a generous amount to live on, but the majority of his wealth went to Anthony, his eldest son by his first wife. He also left provision for his two illegitimate children, Charles and Anne. Browne was buried with his first wife at Battle.
Written by Charlotte Donovan.
Charlotte Donovan is a 23-year-old, recent BA Hons History Graduate from the University of Hull. Her favourite time period in History is the Tudor period and she has a huge love/interest for Anne Boleyn, Henry VIII and the people of the Tudor court. Charlotte is a writer who is currently halfway through writing her first book. She lives in Hartlepool with her partner where she works at the local college as a Learning Support Assistant, she loves to read/write and also watch TV dramatisations and documentaries of her favourite time periods within history. Charlotte is also a blogger for her own site With love, Charlotte x.
Sources used
Picture: Posthumous portrait by an unknown artist, c. 1550, NPG.
"BROWNE, Sir Anthony (c.1500-48), of Battle Abbey and Cowdray Park, Suss". History of Parliament Online
"Browne, Sir Anthony", William B. Robison, Oxford Dictionary of National Biography.