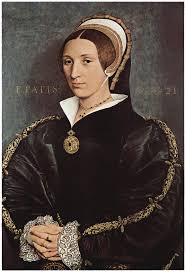 On this day in history, 19th March 1568, Elizabeth Seymour, the wife of John Paulet, Lord St John died. She was laid to rest on 5th April in the Paulet family church of St Mary at Basing, Hampshire.1 She was around fifty years of age.
The undated inscription on the wall of the vault in the church (as transcribed by Lord Bolton, 16th Dec. 1903) reads:
"Hic jacet D[omina] Cromwell, quondam conjux Johis, Marchionis Winton."2
Known by her superior title of Lady Cromwell, Elizabeth was never a Marchioness - her husband succeeded his father as 2nd Marquess of Winchester after her death.
Born by 1518, Elizabeth Seymour was a younger daughter of Sir John Seymour of Wolf Hall in Wiltshire and Margery Wentworth. She was the sister of Jane, third consort of King Henry VIII as well as the Protector Somerset.
By July 1530 she had married, as his second wife, Sir Anthony Ughtred, later governor of Jersey. This marriage produced two children; Henry, born 1533/4, and Margery, probably early in 1535.3 Following her husband's death in October 1534, the young widow returned to England, to serve her mistress and cousin, Queen Anne Boleyn.
After Queen Anne's execution in 1536, Lady Ughtred did not join the household of her sister Queen Jane, although she would serve two of the king's later wives, Anne of Cleves and Katherine Howard. Elizabeth had been living in Yorkshire until early 1537 when Thomas Cromwell, the lord privy seal, made her an offer she could not refuse - a marriage to his seventeen-year-old son and heir, Gregory. The marriage took place on 3rd August 1537 at Mortlake. The couple, who appear to have been genuinely fond of one another, would have three sons: Henry, no doubt named in honour of the king, arrived in 1538, followed by Edward in 1539 and Thomas in 1540. There were also two daughters: Katherine, most likely named after Queen Katherine Howard in 1541, and Frances, possibly in memory of the late wife of Sir Richard Cromwell in around 1544.4 Although Elizabeth and her husband survived the disgrace of Thomas Cromwell's fall from power in 1540, Gregory would not long outlive his father. On 4th July 1551 Gregory, now Lord Cromwell, died of sweating sickness at the family home, Launde Abbey in Leicestershire.
By April 1554, Lady Cromwell had married, as his second wife, John Paulet, Lord St. John. This marriage was childless. She was survived by her husband who succeeded his father as 2nd Marquess of Winchester in 1572. He later married, before 30th September 1568, Winifred, widow of Sir Richard Sackville, and daughter of John Brydges, a former Lord Mayor of London.
Notes and Sources
The Complete Peerage (1959), vol. xii, pt. ii, pp. 764 where her date of death is [incorrectly] given as 1563. In fact, she was still living in 1564. See Calendar of the patent rolls preserved in the Public Record Office: Elizabeth [I]. vol. 3, p. 141. For her death and burial in 1568 see College of Arms (1829) [S. and R. Bentley, London, 1829], Catalogue of the Arundel Manuscripts in the Library of the College of Arms. p. 63; See also Calendar of the patent rolls preserved in the Public Record Office: Elizabeth [I]. vol. 4, p. 184.
Ibid, p. 764, note (b).
Fitzgerald, T. and MacCulloch, D. (2016) 'Gregory Cromwell: Two Portrait Miniatures by Hans Holbein the Younger', The Journal of Ecclesiastical History, 67(3), pp. 587–601.
Ibid, pp. 593-594.